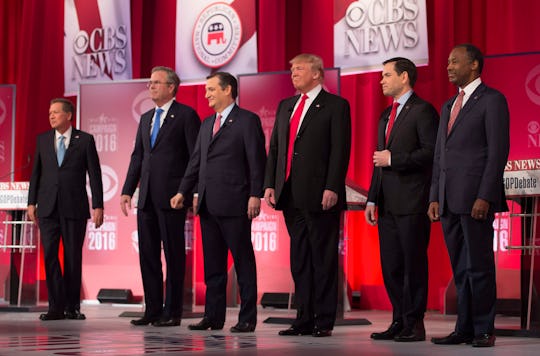 Jim Watson/Getty Images
Republican Candidates Respond To Scalia's Death At GOP Debate
On Saturday, just hours after the news had broken, the Republican candidates responded to Justice Antonin Scalia's death at the GOP debate. Hosted by CBS News, this is the seventh such debate during election season ahead of the Republican primary in South Carolina on Feb. 20. The debate stage hosted the six remaining Republican presidential candidates on Saturday night: former Florida Gov. Jeb Bush, former neurosurgeon Ben Carson, Texas Sen. Ted Cruz, Ohio Gov. John Kasich, Florida Sen. Marco Rubio, and real estate mogul Donald Trump. The six presidential candidates observed a moment of silence for the passing of Scalia; Rubio was the only one to cross himself before observing the moment of silence.
The debate began by addressing the elephant in the room: the topic of Scalia's passing and the all-too-important vacancy on the Supreme Court bench left in its wake. Most of the candidates echoed the sentiment expressed by Senate Majority Leader Mitch McConnell earlier Saturday, who said "this vacancy should not be filled until we have a new president" in a statement following the Supreme Court Justice's death. On the contrary, Senate Minority Leader Harry Reid said Saturday in a statement that the president shouldn't wait in nominating a successor to Scalia's seat on the Supreme Court.
Donald Trump: "Delay, delay, delay"
Trump got the first question of the night, and was asked if he were president in his final year in this situation and whether or not he would nominate a conservative successor. Trump responded: "If I were president now I would certainly want to try and nominate a justice — and I'm absolutely sure President Obama will try to do." Trump also name-checked the Senate Majority Leader, saying: "I think it's up to Mitch McConnell and everybody else to stop, it. It's called delay, delay, delay."
John Kasich: "The country is so divided right now"
The Ohio governor was quick to point out — and criticize — how quickly Scalia's death has been politicized: "It's not even two minutes after the death of Justice Scalia. I just wish we hadn't run so fast into politics," Kasich said. "The country is so divided right now and we're going to see another partisan fight take place." Kasich also agreed that Obama should let the nomination fall in the hands of the next president.
Ben Carson: "Truly nasty remarks"
Dr. Carson skirted the question of what the Constitution has to say about who has the power to appoint justices to the Supreme Court. Instead, he deflected his answer towards the response that has come out in the hours since Scalia's death: "I've looked at some of the remarks that people made after finding out that Justice Scalia had died and they were truly nasty remarks. And that we have managed to get to that position in our country is truly a shame." Carson agreed that Obama should wait to name an appointee.
Marco Rubio: "It's not unprecedented"
Rubio noted the enormity of Scalia's loss to the judicial and legislative communities, but noted "it's been over 80 years since a lame duck president has appointed a Supreme Court justice." He stated that one of the first acts of the next president should be to appoint a successor to Scalia's vacancy.
Jeb Bush: "Someone with a proven conservative record"
Bush dove right into the scenario as if he was elected president, stating that he would appoint someone with a "proven conservative record similar to Justice Scalia that is a lover of liberty, that believes in limited government."
Ted Cruz: "We are one Justice away..."
Cruz offered the final thoughts on the first round of questions regarding a Supreme Court vacancy, and offered an impassioned response invoking Roe v. Wade, the Second Amendment, and religious freedom — as well as the desire for Obama to delay nomination of a new justice: "We are one justice away from a Supreme Court that will strike down every restriction on abortion that was adopted by the states. The stakes of this election, for this year, the Senate needs to stand strong."
The next GOP debate will take place on Feb. 25 in Houston, Texas and will be hosted by CNN.