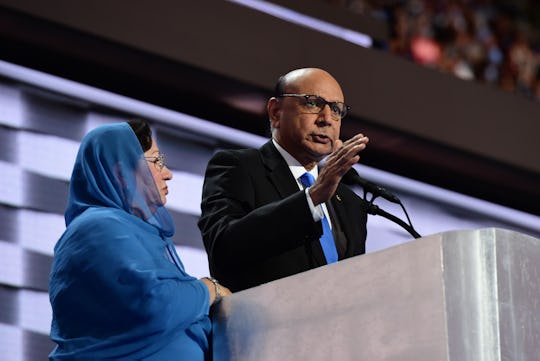 ROBYN BECK/AFP/Getty Images
Republicans Call Trump's Khizr Khan Responses Disrespectful To Military Families
Khizr Khan's moving speech about being the patriotic Muslim father of a slain U.S. Army captain was considered by many to be one of the defining moments of the Democratic National Convention. Unsurprisingly, Republican presidential candidate Donald Trump wasn't pleased with Khan's speech — one that specifically took him to task — and, unsurprisingly, he had a lot to say about it. But his particularly disparaging comments, in which he called out Khan's wife, Ghazala Khan, and suggested she didn't speak at the DNC because she wasn't allowed to according to her Muslim faith, sparked outrage on both sides of party lines. And that outrage is why some Republicans are calling Trump's response to Khizr Khan disrespectful to military families — and, well, disrespectful in general, too.
During his DNC speech, Khan criticized Trump for his desire to ban all Muslims from entering the United States, and emphasized the fact that his own son, a Muslim American immigrant, died while serving his country in Iraq 12 years ago. And in one particularly poignant moment, Khan addressed Trump directly, saying, "you have sacrificed nothing and no one."
Later in the week, Trump responded to Khan's claim during an appearance on ABC's "This Week," arguing that he has made "a lot of sacrifices" as a result of "[working] very, very hard," to create "thousands and thousands of jobs, tens of thousands of jobs." He then shifted the focus to Ghazala Khan, and said,
If you look at his wife, she was standing there. She had nothing to say. She probably, maybe she wasn't allowed to have anything to say. You tell me.
In response to Trump's comment, Ghazala Khan penned an op-ed in The Washington Post, in which she explained that her grief — not her religion — was why she chose not to speak at the DNC, and that Trump's inability to understand that was ignorant:
Donald Trump has asked why I did not speak at the Democratic convention. He said he would like to hear from me. Here is my answer to Donald Trump: Because without saying a thing, all the world, all America, felt my pain. I am a Gold Star mother. Whoever saw me felt me in their heart.
Her husband then appeared on CNN Sunday, criticizing Trump's comments about Ghazala as arrogant and lacking in empathy. He said,
[Trump has] a black soul, and this is totally unfit for the leadership of this country. The love and affection that we have received affirms that our grief — that our experience in this country has been correct and positive. The world is receiving us like we have never seen. They have seen the blackness of his character, of his soul.
Speaking up in support of the Khans, Democratic presidential candidate Hillary Clinton said Sunday, according to CNN, that Trump has hit a new low:
[Trump] called Mexicans rapists and criminals. He said a federal judge was unqualified because of his Mexican heritage. He has called women pigs. He has mocked a reporter with a disability ... And any one of those things is so offensive and then to launch an attack as he did on Capt. Khan's mother, a Gold Star mother, who stood there on that stage with her husband honoring the sacrifice of their son and who has in the days since spoken out about the overwhelming emotion that any mother would feel as her son was being honored and then to have Trump do what he did, I don't know where the bounds are. I don't know where the bottom is.
But this time, Democrats aren't the only ones offended by Trump's comments. According to CNN, South Carolina Sen. Lindsey Graham had some choice words for Trump, which he released in a statement:
This is going to a place where we've never gone before, to push back against the families of the fallen. There used to be some things that were sacred in American politics — that you don't do — like criticizing the parents of a fallen soldier even if they criticize you. If you're going to be leader of the free world, you have to be able to accept criticism. Mr. Trump can't. The problem is, 'unacceptable' doesn't even begin to describe it.
On Twitter, other Republicans also shared their thoughts on Trump's offensive comments. Ohio Gov. John Kasich, who was the last to drop out of the race for the GOP nomination against Trump, wrote,
There's only one way to talk about Gold Star parents: with honor and respect. Capt. Khan is a hero. Together, we should pray for his family.
Similarly, Jeb Bush, who also ran against Trump, tweeted, "This is so incredibly disrespectful of a family that endured the ultimate sacrifice for our country."
House Speaker Paul Ryan released a statement following Trump's comments, according to CNN, rejecting the idea of Muslim ban, and praising Muslim Americans for their military service.:
America's greatness is built on the principles of liberty and preserved by the men and women who wear the uniform to defend it. As I have said on numerous occasions, a religious test for entering our country is not reflective of these fundamental values. I reject it. Many Muslim Americans have served valiantly in our military, and made the ultimate sacrifice. Captain Khan was one such brave example. His sacrifice — and that of Khizr and Ghazala Khan — should always be honored. Period.
Senate Majority Leader Mitch McConnell, also released a statement honoring Humayun Khan and his family, and said:
Captain Khan was an American hero, and like all Americans I'm grateful for the sacrifices that selfless young men like Captain Khan and their families have made in the war on terror. All Americans should value the patriotic service of the patriots who volunteer to selflessly defend us in the armed services. And as I have long made clear, I agree with [the Khans] and families across the country that a travel ban on all members of a religion is simply contrary to American values.
According to The Washington Post, New Hampshire Sen. Kelly Ayotte (who is also the wife of a military veteran) said, "I am appalled that Donald Trump would disparage [the Khans] and that he had the gall to compare his own sacrifices to those of a Gold Star family." Ayotte released a statement in May saying that she would support Trump as a Republican, but stopped short of officially endorsing him, according to MSNBC.
Similarly, Colorado congressman Mike Coffman, who is a veteran himself, said in a statement: "Having served in Iraq, I'm deeply offended when Donald Trump fails to honor the sacrifices of all of our brave soldiers who were lost in that war."
And in a statement released Monday, Arizona Sen. John McCain — whom Trump has also criticized in the past, according to CBS News, as not being a war hero because he was captured as a prisoner of war in Vietnam — slammed the GOP candidate for his comments about the Khan family, according to CNN:
While our Party has bestowed upon him the nomination, it is not accompanied by unfettered license to defame those who are the best among us. I cannot emphasize enough how deeply I disagree with Mr. Trump's statement. I hope Americans understand that the remarks do not represent the views of our Republican Party, its officers, or candidates.
I'd like to say to Mr. and Mrs. Khan: thank you for immigrating to America. We're a better country because of you. And you are certainly right; your son was the best of America, and the memory of his sacrifice will make us a better nation — and he will never be forgotten.
The uproar about Trump's disrespectful rebuttal to the Khan's speech and subsequent comments certainly appears to be a significant moment in his campaign, and it will definitely be interesting how the controversy will affect his support within his own party. It's hard to believe that Trump could emerge from something so callous and insensitive completely unscathed — but then again, this is certainly not the first time he's made heartless, outrageous remarks, and each time, it seems as though his supporters have continued to remain loyal regardless of the comments coming out of his mouth.