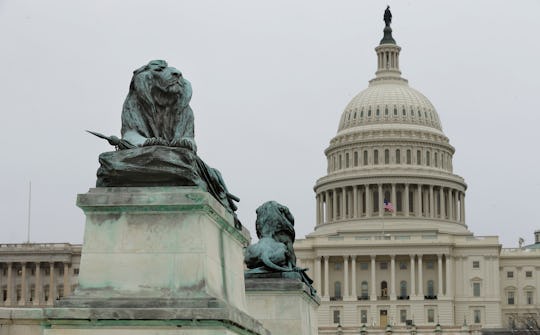 Chip Somodevilla/Getty Images News/Getty Images
Republican House Members Vote To Allow LGBTQ Discrimination From Adoption Agencies
The practice of sneaking controversial and often unrelated amendments into seemingly innocuous bills is a well-known tactic in Washington, but the latest one really underscores how carefully voters should be examining legislation that their representatives are passing on their behalf: on Wednesday, the House Appropriations Committee passed a funding bill for the Departments of Labor, Health and Human Services, and Education that contained an amendment allowing adoption agencies to discriminate against LGBTQ families. The bill passed along party lines, 30-22, and the amendment itself was passed 29-23. According to NBC News, the only Republican who voted against it was Rep. Scott Taylor of Virginia.
The amendment, introduced by Alabama Rep. Robert B. Aderholt, incongruously implies that not allowing taxpayer-funded agencies to discriminate against LGBTQ parents is itself discrimination:
The Federal Government, and any State or local government that receives Federal funding for any program that provides child welfare services ... shall not discriminate or take an adverse action against a child welfare service provider on the basis that the provider has declined or will decline to provide, facilitate, or refer for a child welfare service that conflicts with, or under circumstances that conflict with, the provider's sincerely held religious beliefs or moral convictions.
Of course, this language would also allow for agencies to refuse to place children with, say, single mothers or Jewish parents, but we all know exactly what Aderholt had in mind when he crafted it, right? Let's not put words in his mouth, though. In a statement provided to NBC News, he gave the following excuse:
First, the current opioid epidemic has caused the number of children in foster care across America to skyrocket. Secondly, several states and localities across the country are not allowing religious organizations, such as Catholic Charities and Bethany Christian Services, to operate child welfare agencies. The reason for this is simply because these organizations, based on religious conviction, choose not to place children with same-sex couples.
That clears that up, then. Aderholt's spokesperson, Brian Rell, insisted that the amendment is not anti-gay, and offered this advice to prospective parents who would be turned away under the new legislation: "If you are a same sex couple, you can go to a different agency and adopt there." Simple as that! Just go to a different agency, just like you have to go to a different pizza place or order your wedding cake from a different baker.
According to Freedom For All Americans, there are already 10 states that allow LGBTQ discrimination from child welfare agencies: Alabama, Kansas, Michigan, Mississippi, North Dakota, Oklahoma, South Carolina, South Dakota, Texas, and Virginia. That figure has doubled since Trump took office. If you live in a more progressive area, Aderholt has a workaround; the amendment requires the Department of Health and Human Services to withhold 15 percent of states' child welfare services funding if they don't comply. Literally taking money away from orphans.
There's a national shortage of adoptive families in America, and kids are suffering because of it. According to the American Civil Liberties Union, an estimated 500,000 U.S. children are languishing in foster care. About 100,000 are waiting for permanent homes, but last year, only 20,000 of them got one. How many more would find homes if discrimination wasn't a factor? How many more will lose that option if every state is forced to allow discrimination going forward? According to U.S. Census data, same-sex couples are six times more likely to foster children, and at least four times more likely to adopt. If you'd like to see whether your Representative voted in favor of this bigoted, immoral piece of legislation, here's the full Committee membership list, and here are their phone numbers.