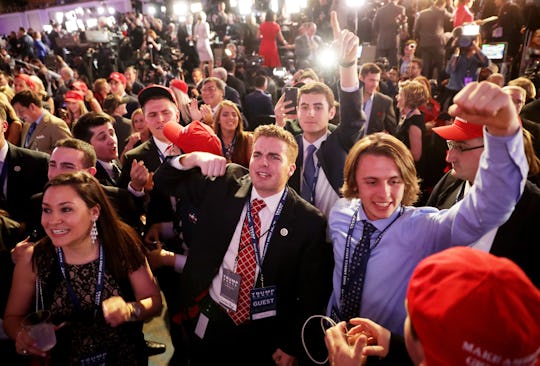 Chip Somodevilla/Getty Images News/Getty Images
Republicans Retain Senate Majority, So It's A Big Night For The GOP
With the election locked insanely close right now for Republican nominee Donald Trump and Democratic nominee Hillary Clinton there is one definite: the GOP had a good night. According to Reuters, Republicans retain the Senate majority and they will maintain control over the U.S. House of Representatives.
On Thursday evening, CNN reported that Republicans have 48 Senate seats and Democrats have 46. There were some stand out comebacks and surprises that effectively blocked Democrats from the Senate. Wisconsin Sen. Ron Johnson, who apparently was not poised to win and as CNN noted, had a major comeback and held off Russ Feingold. Sen. Richard Burr (R) in North Carolina was re-elected and Sen. Pat Toomey (R) beat his Democratic rival Katie McGinty.
As the Washington Post explained, Democrats did not get the wins they hoped for. Vox noted that Democrats needed to pick up 30 seats to regain a majority, but they missed their goal.
The House of Representatives will stay in Republican control next year as well. Some stand out moments included GOP Rep. Barbara Comstock winning re-election by double digits in her Northern Virginia district which was full of suburban women, explained ABC News.
Supposedly Republican strategists said last week they'd be happy with just a single-digit win there. Another big factor was the fact that the sheer number of down-ballot wins for GOP's was pretty impressive. According to CNN, those incumbents that ran away from presidential nominee Donald Trump survived, and even those who supported him did as well.
What all of this means is that liberals will have to lessen their expectations after Election Day on bills they wish to pass, noted Vox. Certain bills that were up for passage included bills to combat climate change, immigration reform, a nationwide paid family program, and universal pre-K. Some of the party's big agenda items are assumed to be off the table for now.
CNN explained that control of the Senate will be really important to the early success of either a Trump or a Clinton presidency. Policy-making will depend largely on party dominance in Congress. The House has been in Republican control since 2011 and has been steadfastly blocking Democratic President Barack Obama's agenda.
The other part of this Republican take over is the impact on the markets. As noted by Mohamed A. El-Erian, Chief Economic Adviser and Chair of Pres. Obama's Global Development Council on Twitter, things could be kind of shaky.
No one can know for sure what the markets will do this week and in the comings week, but it seems many are attributing market anxiety to Trump gains and Republican control in Congress.