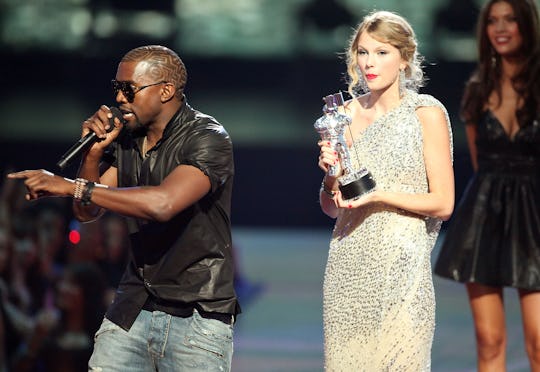 Christopher Polk/Getty Images Entertainment/Getty Images
Taylor Swift's Album Is Coming Out On A *Very* Suspicious Day
Taylor Swift released the first single of her new album, Reputation, late on Thursday night, and the song, "Look What You Made Me Do," is already gaining some criticism from audiences for its thinly veiled hits at, presumably, long-time Swift feud-sters Katy Perry and Kanye West. To add fuel to that fire, one Twitter user discovered a surprising overlap in dates: Swift has announced that she'll be releasing Reputation on Nov. 10, a date that one person found overlaps with another, less celebratory anniversary. Yes, Reputation drops on the anniversary of West's mom's death, and some people think it isn't an unfortunate coincidence.
Romper reached out to Swift's representatives about the date, and a source at her record label said, "It is standard practice that releases come out on Fridays and we locked in this release date based on other Universal Music Group releases. There is no correlation."
However, not everyone on the internet is seeing the overlap that way. West's mother, Donda West, died of heart attack on Nov. 10 a decade ago, according to People, and her loss was a heavy blow to West. He has a tattoo in her honor, and has said in interviews in the past that he sacrificed his mother for his success, according to People. He reportedly told Q Magazine in 2015:
If I had never moved to L.A. she'd be alive. I don't want to go far into it because it will bring me to tears.
Twitter users who don't think the release date is a coincidence have not been shy about voicing their disappointment:
Others, however, have different theories about the coincidence. For instance, one Twitter user pointed out that the numbers in Swift's Nov. 10, 2017, release date, taken individually, add up to 13, Swift's favorite number. Others pointed out that no one would ever stoop to the level of evil necessary in order to release an album on a day when a "nemesis" was mourning their parent.
To be honest, I doubt that Swift — or anyone at all, really — would stoop low enough to plan her album's release around the anniversary of West's mother's death. Even if she did think that was a good idea, there's no way an entire PR team thought that was a solid plan and approved it.
Either way, though, it's not the best coincidence in the world for a celebrity who just released a revenge-filled single aimed with veiled digs at West. It'll be interesting to see how the new Swift responds to this — might I suggest still changing the date?