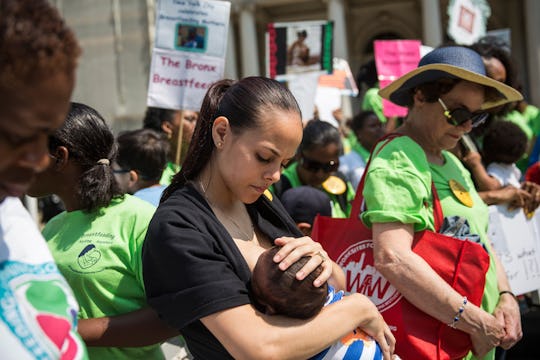 Andrew Burton/Getty Images News/Getty Images
Breastfeeding May Reduce Risk Of Multiple Sclerosis
Women are told long before they're pregnant all about the benefits of breastfeeding their baby: its cost free and protects the baby from illness. But they're told these things for a good reason; breastfeeding is incredibly beneficial to both mother and baby. Aside from the obvious, there is a lot of reasons why an expecting mother might want to breastfeed. Especially now, since new research suggests breastfeeding may reduce risk of multiple sclerosis.
Multiple sclerosis, or MS, is a chronic disease of the central nervous system (effecting the brain, the spinal cord, and optic nerves), according to the National MS Society, where the immune system "incorrectly attacks" healthy tissue. MS could leave nerves permanently damaged and could leave some disabled. Women are more likely to get MS over men, but there is no direct cause for MS (according to the Mayo Clinic, a combination of genetics and environmental factors could be to blame).
But new research, published in Neurology, found that breastfeeding for a total of at least 15 months over one or more pregnancies could bring down a women's risk of developing MS. The study, which compared 397 women who were newly diagnosed with MS to 433 healthy women, found that women who breastfed for a cumulative 15 months or more were 53 percent less likely to develop MS.
"Many experts have suggested that levels of sex hormones are responsible for these findings, but we hypothesized that the lack of ovulation may play a role, so we wanted to see if having a longer time of breastfeeding or fewer total years when a woman is ovulating could be associated with a risk of MS," study author Anette Langler-Gould, said in a press release for the study.
There is no cure for MS, according to the Mayo Clinic, but there are treatments that can help reduce the symptoms that include numbness or weakness in the body, overwhelming fatigue, and difficulties with mobility. MS isn't fatal, either, and has more of an effect on quality of life, rather than longevity, according to HealthLine. Some studies have found that women experience fewer MS attacks during pregnancy and when they breastfeed their children. Actress Jamie-Lynn Sigler, who was diagnosed with MS at 20-years-old, told Glamour last year that her symptoms "got quieter" during her first pregnancy.
This study does not prove that breastfeeding is responsible for a reduced risk of MS, but just shows that there is a link between a reduced chance of MS and breastfeeding past 12 months. "This study provides more evidence that women who are able to breastfeed their infants should be supported in doing so," Langler-Gould said in the press release. "Among the many other benefits to the mother and the baby, breastfeeding may reduce the mother's risk of developing MS."
As previously stated, breastfeeding infants has proven to have some seriously amazing benefits. This research only reiterates the importance of why expecting mothers should give breastfeeding a go.