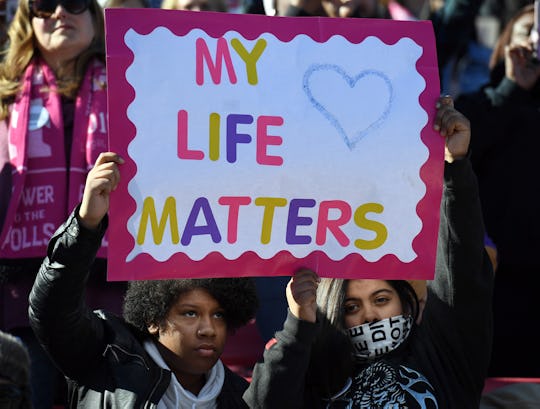 Ethan Miller/Getty Images News/Getty Images
Restaurants Are Supporting March For Our Lives Protesters & It's Inspiring AF
Today, millions of protesters will take to the streets to protest the current state of gun safety laws in the U.S. This movement was prompted by the Feb. 14 mass shooting at Marjory Stoneman Douglas High School, during which a former student gunned down 17 students and teachers. What's even more disturbing The 19-year-old legally owned the semi-automatic assault rifle that helped carry out the massacre. Organized by survivors of the horrific tragedy in Parkland, Florida, March For Our Lives is being held today, Saturday, March 24, in Washington, D.C. However, there are 49 sister marches organized today across the nation, as well as hundreds more around the world. And in our nation's capitol, restaurants are supporting March For Our Lives protesters, showing their solidarity for gun safety.
In the process of offering free or discounted food to students participating in the March For Our Lives, it seems these restaurants have created their own movement in the process — and they've declared it "Food For Our Lives," Today reported. "We wanted to be able to provide something to people making an effort and going out there and speaking up," Mallory Finnigan, general manager at The Pig, told Today. "People just flood down 14th Street. We wanted to get a chance to feed them and to do something to show our solidarity." It seems this sentiment reflects the goal of the overall movement. The Food For Our Lives website reads:
We proudly stand with the students who have come to make their voices heard against gun violence.
According to the Food For Our Lives website, free meals for marching students ages 18 and younger (with a valid ID) will be available at the following D.C, restaurants: Think Food Lab, 701 Pennsylvania Ave.; The Pig, 1320 14th St.; and The Bird, 1337 11th St. A long list of other eateries are offering at 50-percent discount today between 11 a.m. and 5 p.m. for students 18 and younger with valid IDs. (Click here for the full list.)
Here are a couple of other freebies to watch out for, for those who are marching in Washington, D.C. today: Sugar Shack Donuts is providing a free donut to high school students will a valid ID; and RareSweets Bakery is offering free granola bars students ages 18 and younger with a valid school ID — and younger marchers can show a poster for the the march for a free granola bar, too.
Additionally, all restaurants that are part of the EatWell group — like The Bird, Grillfish, Comissary, and Logan Tavern — will also offer a specialty cocktail (not for kids, obviously.) All proceeds from the cocktails go to Everytown for Gun Safety, Today reported.
Even Lyft is getting in on the action by providing free rides to March For Our Lives events across the nation today, Time reported. Lyft is offering free rides up to a total $1.5 million to rallies in 50 U.S. cities, according to the publication. (Click here for a list of codes for free rides.)
I, for one, think it's fantastic that so many restaurants and businesses are showing their support for March For Our Lives. Anything that helps with the logistics of feeding and transporting large groups of minors while they're marching for gun safety is sure to make things run more smoothly. And as the Parkland survivors have been saying all along, this call for common-sense gun safety measures isn't a Republicans versus Democrats situation — it's about actually doing something to help prevent the senseless gun violence that's so rampant in our country.
I hope that everyone marching today in Washington, D.C., is able to take advantage of at least one of these deals. Thank you for standing up for the right of students to attend school without the fear of being gunned down. Thank you for letting your voices be heard. And thank you for literally marching for our lives.