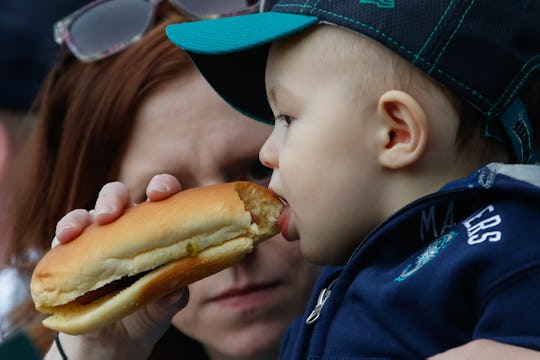 Otto Greule Jr/Getty Images Sport/Getty Images
Restaurant's Brutally Honest Kid Menu Is 100 Percent Accurate
Some news for kids who have found themselves out to eat totally against their will: You're definitely getting French fries. At least, that's the case in one Pennsylvania restaurant, which is using its brutally honest kids' menu to repurpose some classic child responses to the question "What do you want for lunch?" as the actual names for some traditional childhood dishes. And whether they opt for the "I Don't Know" or the "I'm Not Hungry," grouchy little ones are going to end up with a side of fries.
From the moment one Reddit user uploaded a photo of the kids' menu that the Deli at Mansion Park in Altoona, Pennsylvania, recently unveiled, parents (and anyone else who has ever been to a restaurant with young kids) have been nodding and chuckling in recognition. The deli has for choices for bored and unimpressed kids who'd rather not be there: the "I Don't Know" (a hot dog with French fries), the "I Don't Care" (chicken tenders with French fries), the "I'm Not Hungry" (a grilled cheese with French fries), and the "I Don't Want That" (fish sticks with French fries).
"It's definitely relatable to most people," the original poster, Nick Moist, told The Huffington Post. "Whether you've had kids or not, there has most likely been a time in your life where you've had to listen to a parent force the kid to choose their food at a restaurant."
The new menu with old favorites went live in September and the inspiration came from real kids who come into the deli. "It seems like every parent feel like this was written about their kid," the deli's manager, Brian Stroh, told ABC News."You always hear the arguments between parents and kids, 'Do you want this, do you want that,' so we just decided to make it funny."
Some parents on Reddit, though, had some suggestions for even more menu options based on their own experiences. "My kids' favorites aren't on there: 'I hate this' and 'I'd rather starve,'" one commented, according to The Huffington Post. "Where's the $6 bowl of Kraft Mac'n'Cheese that my kids always order and don't eat?" another wanted to know.
Of course, for all the indifference surrounding their actual meals, there's predictably no "Can We Just Go Home Now?" write-in for dessert on the menu. That is certainly not a humorous addition to the menu at any ice cream shop in the United States.