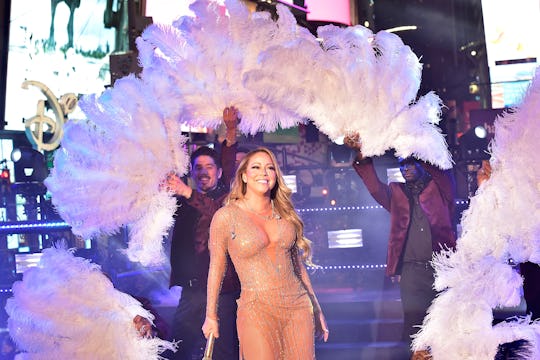 Eugene Gologursky/Getty Images Entertainment/Getty Images
Watch Mariah Carey's Much Talked About Performance
2016 has claimed one final victim in the way of a nightmarish performance. On Saturday night, people around the world stood with their friends, family, champagne, poppers, what have you, to ring in the new year. In New York's Times Square, people stood in, what someone described as horror, as Mariah Carey tried her damn hardest to end 2016 on a high note. Unfortunately, that is not what the universe had planned. The performance didn't go as planned, but if you were otherwise occupied to watch, or were asleep by the midnight ball drop in New York, then you can rewatch Mariah Carey's New Year's Eve performance to see what everyone will be talking and tweeting until something else happens.
The musical powerhouse is currently rooted in Las Vegas for her Caesar's Palace headliner show, where she performs in front of millions of people each week. So, the debacle that was Dick Clark's Rockin' New Year's Eve was not because she was rusty. Instead, she had some major technical issues take place on a stage that might have been just about the last place you want to have technical issues on. According to Yahoo, Carey had "technical difficulties" during her performance at the 11 o'clock hour on the New Year's Eve special, leading her to stop singing her song "Emotions" and literally tell the audience to sing the lyrics for her.
Twitter thinks that Carey was lip syncing when things went wrong, and when they went wrong, she just kind of smiled and hoped it would end soon. (Romper reached out to Carey's reps regarding the suggestion she was lip-syncing.) Unfortunately, this was a moment that probably — and I'm so sorry to do this, Mimi — the entire nation was watching. Or maybe they weren't. Maybe no one watches one of the biggest New Year's Eve specials on television. Isn't there an app for that at this point in life? Jennifer Lopez was performing on NBC, maybe people were watching her instead. (Although, I don't think that's what Mimi would want to hear.)
For her part, Carey tried to roll with the punches. Or, at least that's what she said. Before exiting through an arc of feathers, naturally, Carey told viewers "It just don't get any better." Her tweet following the debacle certainly took the high road. "Shit happens. Have a happy and healthy new year everybody! Here's to making more headlines in 2017," Carey tweeted.
Here's to the headlines, Mimi!