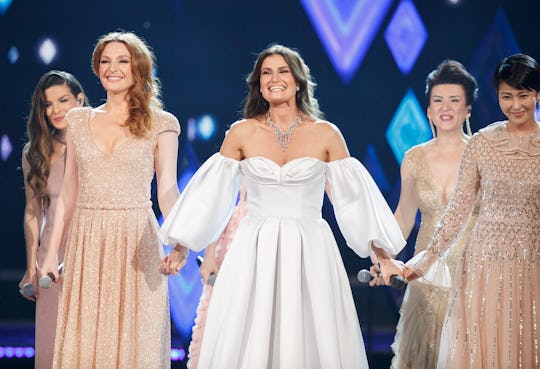 Craig Sjodin/Walt Disney Television/Getty Images
Here's How To Rewatch The Magical 'Frozen' Performance At The Oscars
Before your kid asks, here is how you can rewatch the magical Frozen performance from the Oscars starring nine different women who have voiced Elsa in the iconic animated film. As it turns out, the internet is just as big a force as Elsa's powers, and the performance is already online.
Elsa isn't just popular in your home — she's an international favorite, of course. The first Frozen film has been translated into 41 different languages, reaching so many people all over the world. This impact is powerful and people got a taste of this impact on Sunday night. Idina Menzel, who voices Elsa in the United States, took to the stage at the Oscars to sing "Into The Unknown" from Frozen 2, which also happened to be nominated for Best Original Song.
Menzel was joined by women who lend their voice to Elsa from the following nine countries: Denmark, Germany, Japan, Latin America, Norway, Poland, Russia, Spain, and Thailand. Together, they harmonized, sang their hearts out, and showed people how pretty "Into The Unknown" can sound in different languages. The performance, which is now on ABC's YouTube channel, is so beautiful.
The Elsas met for the first time during rehearsal, just days before having to perform the song live on TV in front of the millions of viewers at home. It's safe to say that their first meeting was just as magical as Elsa herself. "We were all really emotional, I think," German Elsa, Willemijin Verkaik, told Good Morning America. "We just stepped into that room and had our first rehearsal and everyone was like, 'Oh my gosh!'"