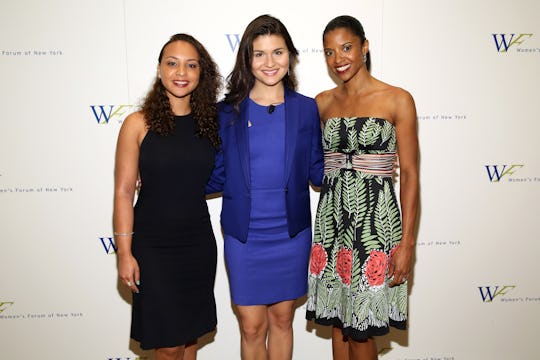 Cindy Ord/Getty Images Entertainment/Getty Images
Rewatch The Schuyler Sisters' SB51 Performance
Super Bowl 51 started off in the best way, with the Schuyler Sisters from Hamilton performing "America the Beautiful." It was a moment not to be missed and helped define the beginning of what will be an unforgettable night. However, in case you did miss it, here's how to rewatch the Schuyler Sisters' Super Bowl 51 performance.
The original Schuyler Sisters, Phillipa Soo (Eliza), Renée Elise Goldsberry (Angelica), and Jasmine Cephas Jones (Peggy), reunited to perform together once again for Super Bowl 51. The three haven't performed altogether since Soo first left the Broadway show in July 2016 to star as the lead in the new musical Amélie. Naturally, Hamilton fans were more than excited to finally see the three back together again.
At this point, none of the original Schuyler sisters are still in the Broadway musical, not that it's made the show any less popular or easier to get into. Hamilton saw a multitude of success, not only selling out shows, but also winning a Grammy and a multitude of Tony Awards last year. In truth, it's become an international phenomenon — for fantstic reason. After hearing the the trio perform, it's clear why the show has done so well.
Thankfully, the internet is fast and the amazing rendition of the patriotic song put on by the Sisters is already circling the web. The video, which is already on Twitter, is (unsurprisingly) being retweeted at an incredibly fast rate. You can find the full clip below:
The three ladies harmonized "America the Beautiful" in a way that made me wish their rendition was sold on iTunes. Not only were their voices incredible and completely in sync, but it was the slight change in lyrics that really had people talking: "And crown thy good with brotherhood and sisterhood," the women sang.
In the words of Angelica Schuyler, they included women in the sequel. Of course, fans were overjoyed by the change and the response to it has been overwhelmingly positive thus far. The ladies then went on to finish the song, which was honestly too short if you ask me. Besides their wonderful singing, they were also joined by quite possibly the most handsome interpreter I've ever seen, which only made the whole moment that much better.
Luke Bryan followed their performance to sing the national anthem, and to be quite honest, it just wasn't fair for him to have to follow such an amazing act. However, he held his own just fine even though "and sisterhood" was still ringing in my ears.
If you're like me and are completely obsessed with the Schuyler Sisters performance then do as I'm about to do and watch it over and over again.