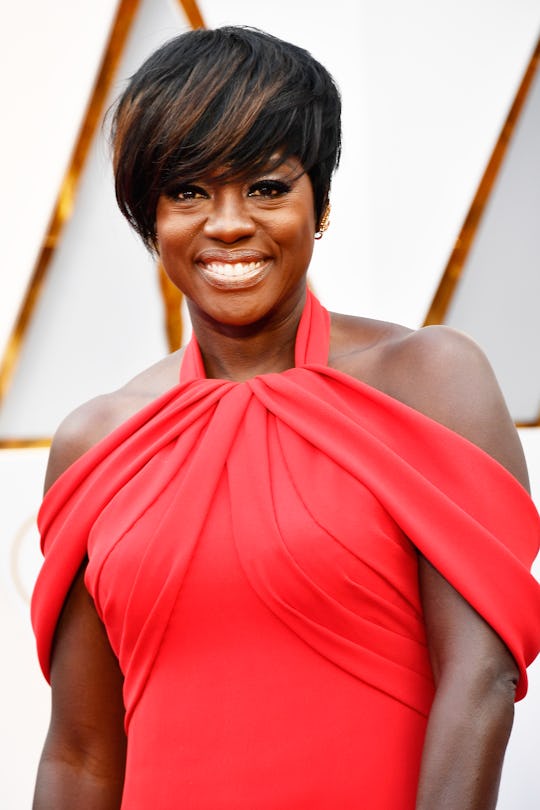 Frazer Harrison/Getty Images Entertainment/Getty Images
Rewatch Viola Davis' Oscar Acceptance Speech Now
Viola Davis finally won a much-deserved Oscar at the 2017 Academy Awards, taking home the statuette for Best Supporting Actress for her role in Fences. It was her first win out of three nominations. She gave a stirring, emotional speech that should be required viewing, so whether or not you caught it, you're definitely going to want to see it again. You need to rewatch Viola Davis' Oscar acceptance speech, because it was an incredibly triumphant moment.
Luckily, Davis' speech was available to watch almost immediately after she accepted her award. The Hollywood Reporter posted the video of her speech on Twitter, and you can watch it below. However, that wasn't the only source that made her Best Actress speech available. You can also watch the full video on TV Line and read the full transcript on Elle. If none of those sources are to your liking – maybe you're just really picky about how you watch Oscar acceptance speeches, I don't know your life – then YouTube has got your back, too. Davis' speech was so stirring that it seems like everyone rushed to make it available as fast as they could, so viewers wouldn't have to miss a single word.
Davis used her speech first and foremost to celebrate the regular, everyday people who were represented in Fences: people just living their lives who probably didn't get any recognition for doing so. She explained that she wanted to tell "the stories of the people who dreamed big and never saw those dreams to fruition. People who fell in love and lost. I became an artist and thank God I did because we are the only profession that celebrates what it means to live a life."
She also honored the people in her life, specifically her co-stars and her family. She was full of praise for Denzel Washington, who directed and starred in the film opposite her, and August Wilson, the author of the play upon which Fences was based. She also took the time to thank her parents, sisters, husband, and daughter, saying that they taught her how to live and how to love. Davis said, to her husband, that she was "so glad that you are the foundation of my life."
Davis' speech was full of raw emotion and genuine warmth. She paid homage to everyone who made her work in the film possible: the people who supported her behind the scenes, the people who made the film happen, and the people who inspired it. It was the kind of speech that will go down in Oscar history as one of the greats.