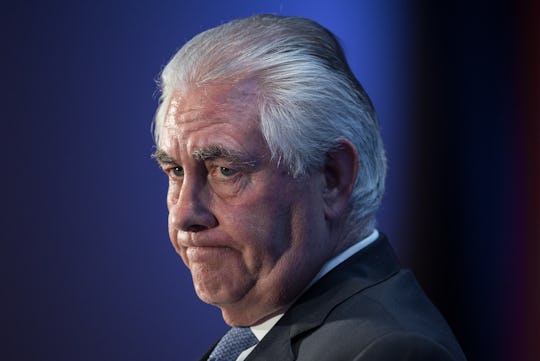 NICHOLAS KAMM/AFP/Getty Images
Rex Tillerson's Net Worth Is Comparable To The Rest Of Trump's Cabinet Picks
Rex Tillerson — the current CEO and president of ExxonMobil Corporation — is now reportedly one of Donald Trump's leading candidates for secretary of state. The sudden news came shortly after Trump's longtime friend and former New York City Mayor Rudy Guiliani took himself out of the running for the Cabinet position. Trump's transition team has yet to make an official announcement, but if the president-elect taps Tillerson — who has ties to Russia — to be in charge of America's international diplomacy, the nomination would possibly put another multimillionaire executive in Trump's Cabinet. The 64-year-old Exxon veteran is a powerful figure in the oil industry and Tillerson's net worth makes him one of the top 10 highest paid CEOs in the United States, even though the company's profits were reportedly down by half last year.
Tillerson's yearly salary has reflected that and has been falling in recent years, but he still earns "about 500 times the median U.S. household income," according to The Washington Post. To put that into perspective, the CEO's current compensation package is reportedly $27.2 million, which roughly equates to $74,520 a day, or about $3,105 an hour if he worked around the clock for 365 days.
In 2014 Tillerson took home $33.1 million, which was 18 percent more than his current salary. And in 2012 the lifelong oil executive reportedly earned $40.3 million.
Aside from Tillerson's yearly salary, The Washington Post reported back in April that the CEO has "built a nest egg with about $218 million in Exxon stock plus a pension plan worth about $69.5 million." According to NBC News's Andrea Mitchell, Tillerson's overall net worth is over $150 million.
In other words, Tillerson has a lot of money. And he would have been able to retire very comfortably when was first expected to step down from the company last March, but NBC News reports that he is now set to retire from ExxonMobil next year.
If Trump does ask the oil titan — who has been the company's CEO since 2006 and has no government experience — to be his secretary of state, his net worth would surely offset the steep pay decrease the government position earns. For example, when Hillary Clinton was secretary of state under President Barack Obama from 2009 to 2013, she was reportedly paid $186,600.
According to The Wall Street Journal, Trump's transition officials say that Tillerson is a top choice for the position because he "is viewed by some of Mr. Trump's advisers as a mold-breaking pick who would bring an executive's experience to the diplomatic role."
While some have welcomed the possible choice, others are concerned about ExxonMobil's interests in Russia, Tillerson's lack of experience with foreign policy as well as his financial stake in the company.
The secretary of State is the nation's chief diplomat, so many Americans are rightfully concerned about who will fill this important position, especially when discussions on energy and climate change solutions are still very divided.