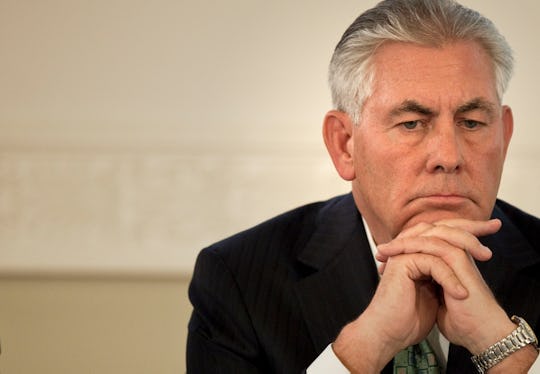 Brendan Smialowski/Getty Images News/Getty Images
Rex Tillerson's Stance On Climate Change Differs From Trump's
Though the president-elect himself claims "nobody really knows" whether or not climate change is happening, his pick for secretary of state thinks it's a bit more clear than that. Rex Tillerson's stance on climate change is somewhat surprising, considering his background and the administration that he, if confirmed by the Senate, would be joining.
Tillerson's views on climate change have evolved over time. Though the ExxonMobil CEO balked at scientific research last May, asking, "What if everything we do, it turns out our models are lousy, and we don't get the effects we predict?," he's shown support for climate change legislation. In 2006, for instance, Exxon actually altered its public stance on climate change, accepting that human actions were to blame for the earth's changes. In 2009, Tillerson also supported a carbon tax intended to promote global accountability for greenhouse gas effects. Under his leadership, Exxon even supported the Paris climate agreement in 2016. If this timeline is any indication, Tillerson's support for climate change referendums should continue to grow.
Though these steps have been small, they're a significant diversion from the forthcoming Trump administration's resistance to addressing climate change. Tillerson's views are so uncharacteristic, in fact, that they've worried some fellow conservatives. Former Sen. Rick Santorum voiced his concerns about Tillerson, saying in a radio interview that "Exxon has been … let's just say, involved in the climate change discussion, accepting the alarmist view of climate change, and suggesting things like carbon taxes and the like." To Santorum, Tillerman's mere acknowledgement of climate change is too radical.
Whereas Tillerson might appear too accepting of climate change science to some, it still isn't enough for many when they consider the Trump Cabinet as a whole. "If the only voice that acknowledges that climate change is even real comes from a secretary of state who was CEO of one of the largest oil companies in the world," wondered Jeremy Symons, who works on climate politics for the Environmental Defense Fund, according to TIME, "then that speaks volumes about where this administration is headed."
What's more, Exxon is currently under investigation under the claim that the company knew of fossil fuels' harrowing impacts on climate, and hid such knowledge. Exxon called the allegations "preposterous," and Tillerson announced: "The charges are pretty unfounded, without any substance at all."
Tillerson's potential role as secretary of state would render him our nation's head diplomat, so his priorities would be felt on a global scale. Given the scope and immediacy that combatting climate change necessitates, Tillerson's willingness or unwillingness to address the issue head-on should be a vital consideration for the Senate in deciding whether or not to confirm him.