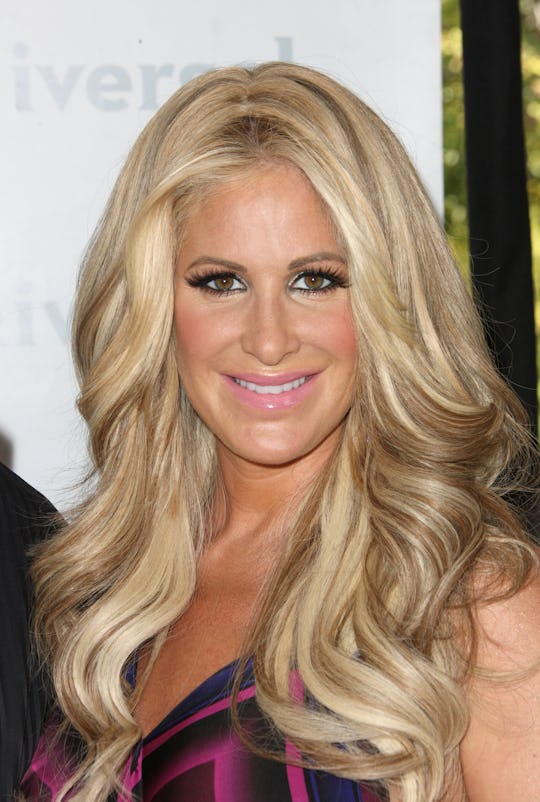 Frederick M. Brown/Getty Images Entertainment/Getty Images
Kim Zolciak Reveals She Wants Another Baby & People Are Really, Really Pissed
Reality TV stars just can't do anything right by their so-called fans sometimes. The most recent victim is former Real Housewives of Atlanta star Kim Zolciak, who wants to have another child, according to an interview she did with Steve Harvey this week. It was an innocent enough comment, but fans on Harvey's Facebook page, where the video of the interview was posted, let loose on the star. They unfairly accused her of wanting to extort money from her husband, Kroy Biermann, not taking care of the six kids she already has, and a whole host of other cruel things.
The Don't Be Tardy star told Harvey, "I would love to have another little boy. I am just obsessed with my boys." The 39-year-old said:
I went back to work seven days after I had KJ, a couple of weeks after I had Kash, and shortly after I had the twins. I didn't really have a break. So I dream of having a baby and just six weeks off, and living in that fantasy world.
Harvey joked to her, "Can't you just have the time off? You gotta have a baby? Why don't you just take six weeks off?" People on social media seemed to take this as their cue to harass the Bravo star for simply wanting, theoretically, even, another kid. Sheesh.
As mentioned, Zolciak already has six kids, though two of them 20-year-old Brielle and 16-year-old Ariana are adopted from a previous relationship and they're almost all grown up. So it's not like she's talking about changing seven diapers all day. In addition to the older set, she also has 6-year-old KJ, 5-year-old Kash, and 4-year-old twins, Kaia and Kane with Biermann.
This isn't the first time that the star has expressed an interest in having another kid. Back in October, she was on Watch What Happens Live with Andy Cohen and a caller asked her if she'd be into more kids. Zolciak didn't miss a beat. She said, "I'm so excited about it because I have baby fever so bad."
There's just one little snag to the whole plan. Biermann got a vasectomy, according to Bravo, after the twins were born in 2013, though Zolciak noted that it's "easy to fix." Back then, she mentioned that she wanted a boy, too. According to Bravo, she said:
I want another boy really bad where I can have some time off for six weeks, and breastfeed and snuggle. It's kind of like a fantasy, because I went back to work with KJ seven days later. I fantasize about it, but I'm very happy with what we have.
So she's obviously been thinking about this a lot. People on social media were not having it, though. "Kim wants another baby to keep people watching that boring show," on person wrote. Another added, "Ugh enough stop she doesn't even take care of the kids she has now."
Another woman wrote, "Did anyone notice she said don't mess with my man, my money, or my kids, with the kids coming in as 3rd. place. But she wants more kids."
"It's easy to say you want more kids when you don't take care of the ones u have.. and girl u know she's past 40," another "fan" chimed in. Yet another added, "She had multiple people to help take care of the kids. Her husband does come first. She's not a normal Mom at all. Her disgusting mouth & one of the little boy curses. They laugh at him & don't correct it. No respect them!"
How many kids someone has is absolutely no one's business and accusing her of mistreating her kids or just wanting another one so that she can coerce her husband to stay in a marriage is totally extreme. It's straight up bullying. Her daughter Brielle told TooFab that she's sick of people judging her relationship with her mother, which is something else the Facebook commenters were harping on. She said:
People see my relationship with my mom as too friendly, but I don't think you could ever be too friendly with your parents. I think some parents aren't close enough with their kids, and communication is key in my family. My whole life, I've told her everything that goes on, even stupid things or things she may not be comfortable with hearing.
Despite the hate, Zolciak and Biermann seem to be happier than ever. And they have their parenting routines all down. The couple joked with Andy Cohen last fall, "We balance each other out. He's raised little men. Every Monday night, the garbage, they take out — all three of the boys."
She added, "They treat me like a queen — all three of the boys. So he's raised little men already. He's an incredible dad. When they cry, I cry. He's like, 'Cut it out!'" Whatever these two decide to do, they'll definitely be ready for it. Even the Facebook haters.
Check out Romper's new video series, Romper's Doula Diaries:
Watch full episodes of Romper's Doula Diaries on Facebook Watch.