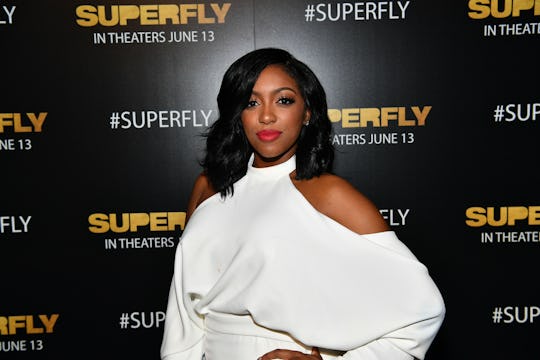 Paras Griffin/Getty Images Entertainment/Getty Images
'RHOA's Porsha Williams Announced She's Pregnant Six Years After A Heartbreaking Miscarriage
The upcoming season of Real Housewives of Atlanta will likely be an exciting one because Porsha Williams is pregnant with her first child, according to People. The 37-year-old reality star confirmed the happy news on Wednesday, six years after she suffered a devastating miscarriage.
Rumors about Williams' pregnancy first circulated in July, when she shared a series of party snaps to Instagram. Some people speculated about the size of Williams' stomach in the photos (yep, that happened), gossip she never felt the need to comment on. And if you have ever suffered a miscarriage or know someone who has, you probably understand why Williams decided to ignore the persistent rumors about her pregnancy. Not only is the info no one else's business, but Williams admittedly was nervous about getting through the first stages of pregnancy without incident. Makes sense, right?
"I've had a miscarriage before in my past, which I've also been open about because I suffer with fibroids and had to have a myomectomy," Williams shared with People. "So just the fear of, 'Is the baby going to be okay? Will I make it full term?' All those questions that you ask if you've had a miscarriage before."
Luckily, Williams' baby-to-be is doing just fine, and she couldn't be more thrilled about her pregnancy that came from "the left."
"I am happy, healthy…and pregnant! #Blessed, #BabyMckinley and #DM," Williams wrote on Instagram Wednesday, referencing the initials of her boyfriend of a year, Dennis McKinley. "Love you all thank you for your support and warm wishes it means the world to us!"
Speaking of McKinley, he couldn't be more excited about the development.
"I believe he's probably shed more tears during the process than me," Williams confessed, according to the Daily Mail. "It's just the sweetest moment of my life right now."
Shortly after Williams confirmed the happy news, fans flooded her Instagram page with well-wishes.
"This is absolutely amazing... Congrats on your rainbow baby..," one fan wrote.
Someone else chimed in: "I'm beyond happy for you girl!!!!"
"I cried because I've been following u since day one and hearing and seeing ur journey and now ur blessing is here," another commenter gushed. "God makes no mistakes his timing is always perfect love u P congrats god bless."
"Yassssssssssssssssssssssssssssssssssssssssss!!!" an especially excited supporter penned. "It's your time!!!
It's no surprise many people are excited for Williams given her struggle with fibroids that resulted in a miscarriage while she was married to former NFL star, Kordell Stewart. Some RHOA viewers might remember when Williams elaborated on the difficult moment, writing in a blog for Bravo, according to Newsweek:
First let me say it took a lot of prayers and thinking to decide to share that part of my life with you all. As you now know, I decided to open-up because if my story can help one female to take notice of what her body is telling her, if my story can cause one women to ask her doctor for a fibroid test prior to trying to conceive, then it will not have been told in vain. I try to formulate a plan, pray on what I desire, and many times it comes into fruition. However on my path to having a healthy baby, well, it didn't happen that way for me.
Although the heartbreaking situation definitely left an imprint on Williams, she's looking forward to the future these days.
"Going into the first appointment and being able to see baby and hear baby and know that baby is fine, then I can really wrap my mind around actually becoming a mommy," Williams revealed, according to MSN.
What a wonderful time for Williams and her partner, McKinley. Congrats to the parents-to-be.