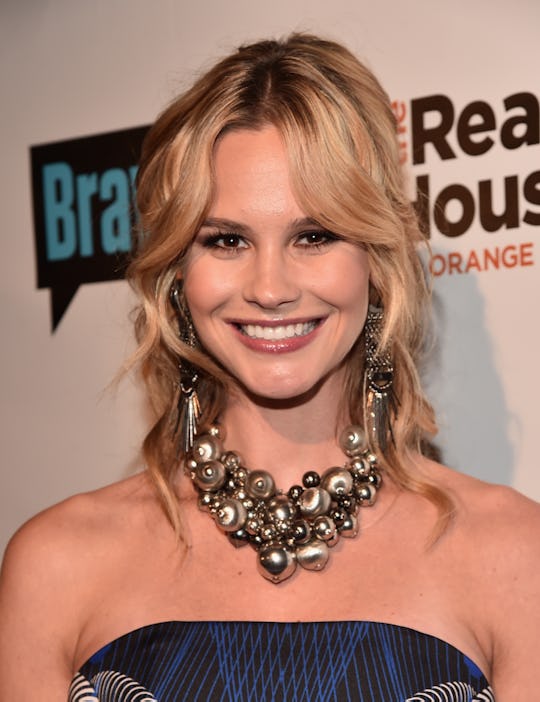 Alberto E. Rodriguez/Getty Images Entertainment/Getty Images
'RHOC' Star Meghan King Edmonds Is Pregnant With Baby No. 2!
The Real Housewives of Orange County family is about to get a little bit bigger, now that RHOC star Meghan King Edmonds is pregnant with her second baby, a boy who is due in June of 2018. The 33-year-old reality star announced the news on her blog on Monday and, true to form, she shared all the details of conceiving via in vitro fertilization.
Edmonds made a splash with her big personality and her openness when she joined the popular reality show back in 2015, and the openness didn't stop when she got pregnant with her first child, a daughter named Aspen. Edmonds and her husband Jim, who has four children from previous relationships, used IVF to conceive Aspen too, and documented the struggles involved on the way to having their precious daughter on the Bravo show.
So on Monday, before the debut of a new RHOC installment, Edmonds wrote on her blog:
Aspen is going to be a big sister! It was so hard for us to keep it a secret from everyone especially since we shared our entire IVF journey with Aspen on RHOC from the very beginning. Tonight on the RHOC reunion you'll see that I'm only one month pregnant, but that was filmed five weeks ago: we are now ten weeks pregnant (and I'm feeling every bit of it)!
The first time around, the couple endured their fair share of difficulties with IVF. The hormones and the loneliness caused Edmonds to enter "the worst depression of [her] life," as she called it on her blog, and Jim, a former Major League Baseball center fielder who now works as a broadcaster, was incredibly busy with spring training season while Edmonds was going through the worst of it. As she told USA Today about the IVF process, "It's not just like a little thing. It changes your life for those months that you're in it, and that's really what was the hardest for me."
But according to Edmonds, all those complications faded away once Aspen was born back in November 2016, and her parents fell in love with her. Edmonds wrote on her blog:
When Aspen was only a few months old Jimmy and I knew we wanted to add another baby to the mix. Yes, Aspen has half-siblings but we wanted her to be able to share in the joy of waking up to a sibling every day of her life. Plus her half-siblings are completely enamored by Aspen and they LOVED the idea of expanding our family even more.
It's no surprise they felt that way. Look at this baby:
Since Edmonds really wanted to have a boy, she began the whole IVF process all over again, but this time, things went a little differently. As she wrote on her blog:
I felt like I handled this IVF much more in stride. I'm not sure if it's because I knew what to expect or if maybe my body was used to the hormones, but it was easier. I was also armed with the emotional mindset to be so much healthier this time around whereas last time I was surrounded by the stress of filming RHOC (which is VERY stressful and emotionally taxing).
She added that she ate "super healthy, cut out most alcohol (next to impossible to do while filming), attended regular acupuncture sessions, and took daily walks." Edwards also revealed that she spent a lot of time focusing on her mental health by praying, meditating, and reading.
"I didn't even watch emotional or negative TV shows. I just felt at ease," she wrote on her blog. "Ultimately my healthy lifestyle helped produce less follicles than round one BUT only produced two less mature eggs than last time!"
At the end of the whole procedure, she and Jim ended up with four healthy embryos, more than enough to achieve their dream of giving Aspen a little brother.
Back in August, Edmonds told UsWeekly that she be up for having "like five babies" if it was up to her. But for now, the news about baby number two is plenty exciting! Congratulations to the happy couple!