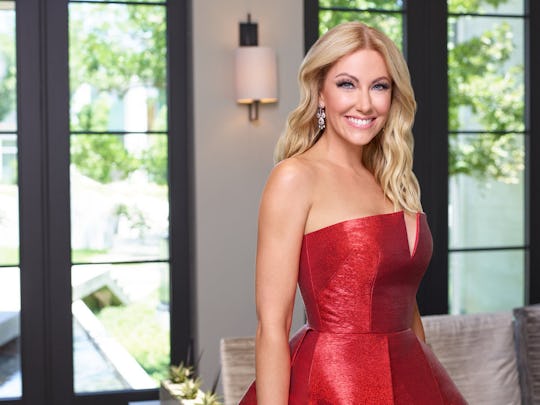 Tommy Garcia/Bravo
Stephanie Hollman Says There's More To LeeAnne Locken
The Real Housewives of Dallas may be the newest ladies to join Bravo's ever-popular Real Housewives franchise, but in just two seasons they have shown viewers the true meaning of the phrase "Don't mess with Texas." Romper spoke over the phone with Stephanie Hollman, who promises that Season 3 of RHOD will shake things up once again. Dallas Housewife Stephanie talks friendship with LeeAnne, mental health, and vaginal rejuvenation — and I honestly could not be more excited.
Stephanie burst onto the scene in Season 1 as the bubbly, fun-loving, and irreverent yin to bestie Brandi Redmond's yang. Though the two had a dramatic falling out in the beginning of Season 2, by the time the show wrapped up the pair (a.k.a. Ramonja part deux) were as close as ever. But the most unpredictable element among this cast of women is always LeeAnne Locken — charity maven, former carnival kid, and occasionally a ~difficult~ friend. LeeAnne's relationships on the show don't so much fall apart as explode in a shower of flames. Though afterwards she always manages to form tentative new bonds, sometimes with the women she'd been most at odds with before. And it appears this is the case with Stephanie. Even after years of butting heads, it looks like Stephanie has gained a new understanding and respect for LeeAnne.
"I will say that I saw a side of LeeAnne this year that I had not seen before in a good way," Stephanie says. She says that the two initially bonded over their shared struggle with depression. It's obviously an emotional topic for Stephanie to discuss, but she shares that it's something she's struggled with for her entire life but doesn't really talk about. LeeAnne, conversely, has always been fairly open about her mental health, going so far as to film her therapy sessions.
Stephanie, herself, is a huge advocate for therapy, and credits it with improving her marriage. In the first season, the dynamic between herself and her husband Travis caused concern among viewers. Travis appeared to infantilize his wife, even giving her a list of chores to be completed while he was away. But these days things are different. "Travis and I have both gone to a lot of therapy," she says. "Honestly, I feel like our marriage is in the best place it's ever been since we first met and whenever you're in the crazy love stage."
Stephanie says that she went on the show to be honest, and that includes not only opening up about her mental health, therapy, and her marriage, but also about some of the not-so-sexy parts of motherhood. A clip of Season 3 shows Stephanie getting a vaginal rejuvenation procedure — from friend and cast-mate Cary Deuber. "So I have two kids and I have major bladder issues that are kind of embarrassing," she admits with a laugh. "[Cary] has this new laser center so I was her guinea pig for this vagina laser. It's actually amazing." She agrees that having Cary there was "so, so, so awkward," but that the procedure actually "worked wonders" — just as long as Cary only looked her in the eye.
But even more exciting than Stephanie's newly rejuvenated nether-regions is BFF Brandi's new baby. "She's kind of a new mom to this perfect baby she adopted," she says. "Which has been probably my favorite thing to see because she's been so happy and Bryan's so happy and the girls are so excited." After well-documented struggles with fertility, Brandi and her husband Bryan decided to adopt a little baby boy that they named Bruin. Stephanie predicts that he will steal the show.
I don't know about that, but I will say that I can't wait to see all the shenanigans these women get up to this year.
The Real Housewives of Dallas premieres Wednesday, August 15 at 9 p.m. ET on Bravo.