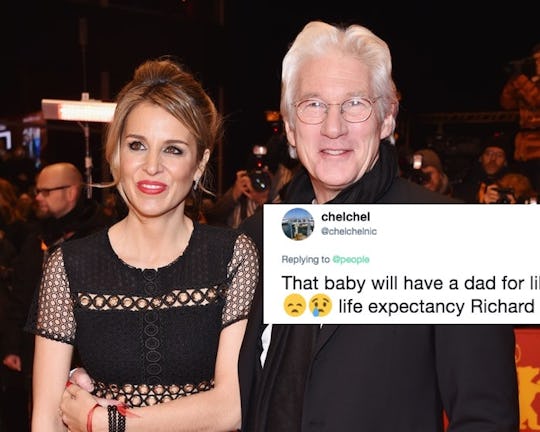 Pascal Le Segretain/Getty Images Entertainment/Getty Images
Richard Gere & Wife Alejandra Confirm They're Expecting & Ugh, People Are Already Judging
After a couple months of speculation, Richard Gere and wife Alejandra Silva confirmed they're expecting their first child together. Announcing that you're expecting a child is definitely meant to be one of the happiest moments of your life, but it seems that some people, instead of congratulating the parents-to-be, are already judging the couple for a pretty ridiculous and unfair reason.
Gere is an actor with quite an extensive filmography, which is no surprise considering his career has spanned over 40 years. As outlined by IndieWire, Gere is perhaps best known for his performances in Time Out of Mind and Pretty Woman.
In early April 2018, Gere married Spanish activist Alejandra Silva. Silva, who is Buddhist, is a native of the Spanish city La Coruna, as noted by Heavy, but the couple splits their time between Madrid and upstate New York. After about four months of marriage, the couple has announced that they are expecting their first child together after receiving a blessing from the Dalai Lama.
"A very special moment just a few minutes ago... Getting blessings for our precious to come.. we couldn't announce it before telling HH Dalai Lama☺️," Silva shared on Instagram on Sunday.
Editor's Note: The Instagram post has since been deleted.
Although Gere, 69, has one son from a previous marriage, this will be his first child with Silva. And the couple definitely seems to be over the moon with joy, as they should. Indeed, having a baby is definitely something they should be able to celebrate. But, it seems that some people are already taking to the internet to share their criticism due to the actor's age.
For example, underneath People's tweet sharing Gere and Silva's announcement, one user wrote, "That baby will have a dad for like 10 years... life expectancy Richard Gere."
Editor's Note: This post has since been deleted.
Another user tweeted, "Richard Gere is having a kid ..... and he is 69 years old.... alrighty then."
"69??? Having a baby at that age is just ridiculous," yet another user said.
Even though the news was announced on Silva's Instagram two hours ago, the negative comments have flooded in. Seeing such a large amount of negative comments coming immediately after someone's pregnancy announcement is a little uncomfortable. After all, plenty of parents have children later in life.
What's important is if Gere and Silva's marriage is happy, healthy, and whether they are able to give a child a loving home. There's no guarantee that younger people are more equipped to do so. A lot of the discomfort seems to revolve around other people's feelings and what they would want. This moment, though, is about Silva and Gere, and shouldn't center anybody else.
With all the negative comments, it seems that people are also forgetting about Silva, who is preparing to be a new mom. This can be a really hard and scary time. It definitely doesn't need extra judgement. Luckily, though, not all the comments have been negative and focused on Gere's age. Plenty of fans are coming through with their support, congratulating the couple and wishing them the best of luck.
"OH MY GOODNESS Congratulations," one user commented underneath Silva's Instagram announcement. That supportive comment was followed by another user, who wrote, "Blesses from me, the bottom of my heart." Another wrote, "Congrats to you both!!!"
Silva's Instagram post is full of many more happy messages, in both English and Spanish. Seeing her get the support she deserves, as a newly expectant mother, is really important.
Although the couple received some hate online, it doesn't seem like that's going to ruin this happy moment for them. As more fans rush to congratulate Silva, it's clear that they have a good system of support.