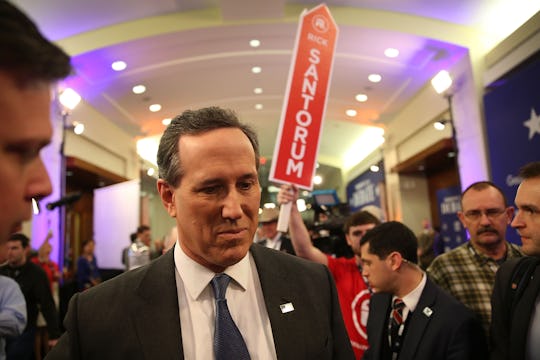 Joe Readle/Getty Images News
Rick Santorum Drops Out Of Presidential Race After Poor Iowa Caucus Numbers
Former Pennsylvania Sen. Rick Santorum dropped out of the presidential race on Wednesday after coming in second to last — 11th place — at the Iowa caucus on Monday night, according to CNN. Santorum will appear on Fox News Wednesday night to make "two major announcements," according to the Washington Post. He will announce the end of his campaign, and the Post reported that he's also expected to endorse one of the remaining candidates.
In 2012, Santorum actually won the Iowa caucus and finished the race for the presidential nomination with the second-highest number of delegates behind Mitt Romney, who became the Republican nominee. Santorum is the third Republican candidate to drop out of the race; former Arkansas Gov. Mike Huckabee dropped out Monday night, and Kentucky Sen. Rand Paul dropped out Wednesday afternoon. Santorum told the Des Moines Register on Monday night that he would be reconsidering his run for the White House:
We are going to spend a couple of days just thinking and praying, and figure out what we are going to do, and we will make a decision.
Santorum, like Huckabee and similar to Texas Sen. Ted Cruz (who won Iowa), wanted to draw support from the party's most conservative voters — conservative Christians and those who favor more interventionist foreign policy, according to the Post. But, USA Today noted, Santorum lost most of his religious supporters to Cruz. Santorum and former Virginia Gov. Jim Gilmore, who came in last place in Iowa, both earned roughly 1 percent each of the Iowa vote.
Santorum hasn't said who he would endorse. But, when CNN Florida Sen. Marco Rubio about a potential endorsement from Santorum, he said he hadn't spoke to Santorum recently and then added, "I think he's fantastic."
Santorum has often used his family in his campaign to demonstrate his commitment to conservative values. His wife, Karen, and most of their seven children have often appeared on stages with him throughout the campaign trail, according to the Post. But, Santorum's tactics just couldn't gain momentum. That might be due, in part, to the fact that the was consistently relegated to the undercard debates at the GOP debates. As a result, Santorum was never able to engage with — or even appear next to — businessman Donald Trump, who has been capturing most of the media attention and support from Republican voters.
Santorum had told CNBC in December that, in 2012, he was polling at 3 or 4 percent just before Iowa, and then he surged at the last minute. He obviously thought the same thing would happen this time around, but Trump became a wrench in his plan.