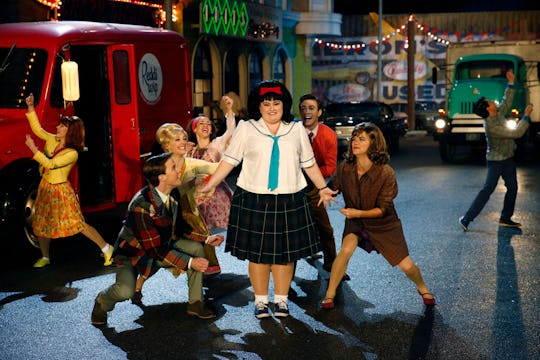 Justin Lubin/NBC
Ricki Lake & Marissa Jaret Winokur's Cameo In 'Hairspray Live!' Was Quick & Beautiful
Hairspray Live! just wouldn't be complete without a little shoutout to the Tracy Turnblads who came before newcomer Maddie Baillio. Ricki Lake and Marissa Jaret Winokur's cameo in Hairspray Live! was quick and beautiful. I only wish that they had been on screen for a little bit longer. Before Hairspray Live! aired, both former Tracys confirmed that they would be a part of this live show in a small capacity, even if they weren't featured in any big role (though I kind of would have love to see them more).
Ricki Lake was the first Tracy Turnblad, in the original 1988 movie version of the show. This was her first big role, and the part that was to launch her 30-year career. Jaret Winokur played Tracy on the Broadway version of the show in 2002. Both women pointed out how special this role was to them, especially now that they're passing the torch. Unfortunately, Nicki Blonsky, who played Tracy in the 2007 movie version of the show, was the only Tracy who wasn't present for the newest version of the show. While I wish she could have been there, it was more than enough to get to see Lake and Winokur join us for one song.
The two former Tracys were just visible opening the door to Mr. Pinky's for Tracy and Edna as they went to get their big makeovers during the incredible "Welcome to the '60s" number, which is arguably the best song in the whole show (don't fight me on this). They were distinguishable pretty much only by their adorable gold headbands and by Winokur's incredible grin, which literally would not quit.
Midway through the show, in one of the behind-the-scenes shots, the two were spotted sitting in the dressing room. They stopped to give a little shoutout to the latest Tracy Turnblad: "From one Tracy to another to another: Maddie, you're killing it!" Lake said.
Every actress brings a little something different to the role of the energetic sparkplug teenager, and there has honestly never been a real consensus as to who the best Tracy is, though every single one who plays the part is necessarily compared to Lake, who made the role famous to begin with. As her first big role, perhaps Baillio will follow in Lake's footsteps in more than one way, and perhaps this will be the beginning of a long and successful career in show business. She's certainly on her way.