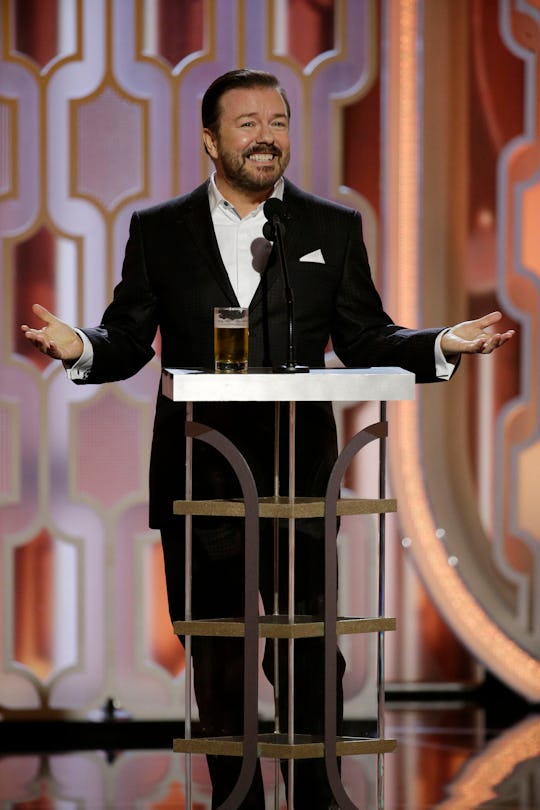 Ricky Gervais' Ben Affleck Cheating Joke At The Golden Globes Was Totally Unnecessary
Some things are better left unsaid. And Ricky Gervais' joke about Ben Affleck cheating is one of them. While announcing Matt Damon as a presenter, he referred to the actor, "the one person Ben Affleck hasn't been unfaithful to." Low blow, Ricky, low blow. As Damon approached the podium, even he was shaking his head, and it took a minute for him to gather his thoughts and read his cue cards. Making fun of a very public, very emotional divorce is just not something you need to bring up at one of Hollywood's big nights. Gervais was referring to Affleck and Jennifer Garner's recent divorce, which came amid tabloid reports of an alleged romance outside of his marriage. I don't want to take sides, but that is not a good way to go.
Think of it this way: have you ever gone through a break up? Have you ever been cheated on? Garner probably already feels like the butt of a joke as her personal life has been opened up to the public on every website and in every magazine. Being the actual punchline during the Golden Globes is just adding insult to injury — and it's totally unnecessary.
A Lot Of People Felt The Same Way On Social Media
But even Twitter's reaction was focused on Ben Affleck getting "burned." But really it's not about Ben or Jen. Their divorce shouldn't be fodder for such public jokes namely because there are children involved. When it comes to custody of children — and protecting them during a messy time — joking about the terms of their split can be a really big deal. Legally, but also just for their own good. Their children are 9, 6, and 3 years old. Old enough that a joke about their dad could get back to them. And that's just not right, Ricky.
Image: Paul Drinkwater/NBCUniversal via Getty Images