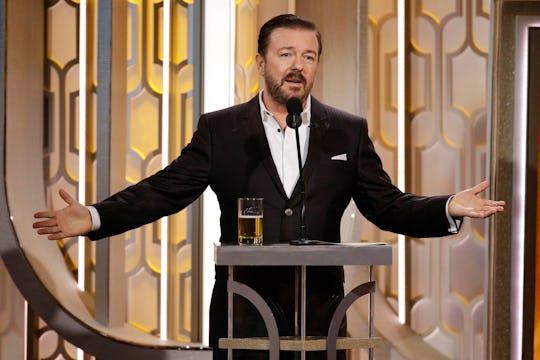 Ricky Gervais' Golden Globes C-Word Tweet Was Inappropriate & Why Is That Supposed To Be Funny?
Going into the Golden Globes, it seemed women were poised to have a big night. But the evening got off to a rough start when host Ricky Gervais called the Golden Globes audience the c-word in a tweet. If that's indication of what was to come from Gervais — and it was — the strides a talented crowd of relatively diverse Golden Globes female nominees experience may be overshadowed by Gervais' offensive humor.
Gervais was the first to admit that he wasn't aiming to please everyone during his fourth time hosting the Globes. "Not everyone will like it," he told Matt Lauer during an interview on The Today Show on Friday. That was definitely the case during Gervais' previous times hosting in 2010, 2011 and 2012, with Robert Downey Jr. calling his commentary in 2011 "hugely mean-spirited."
Still, following Tina Fey and Amy Poehler's turns hosting for the past three years and some exciting nominations for talented, diverse actresses, there were high hopes that this year would see more leaps forward for women. But Gervais' tweet, which he sent while he was preparing for the Globes earlier Sunday, made it clear he wasn't assuming responsibility for promoting the cause.
Sure, it wasn't a specific jab at women (per se) and Gervais is a comedian — but was the tweet really so funny to warrant using the c-word? Many people who responded didn't seem to think so.
Good things promised to come — and did come — for women during the rest of the night, with nominations for movies such as Carol and nods for a diverse crowd. But Gervais damage was already done, and it seemed that some Twitter users and parts of the Globes' crowd were turned off by the unnecessary meanness of his jokes.
Images: Getty Images Entertainment