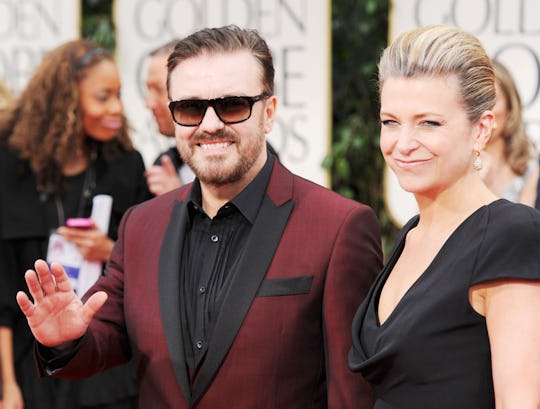 Frazer Harrison/Getty Images
Ricky Gervais' Golden Globes Opening Monologue Transcript Shows He's Definitely Not Holding Back This Year
As we totally could have anticipated based on his three previous turns emceeing, the host of the 2016 Golden Globes set the tone for Hollywood's booziest awards show by making it clear that no topic was off-limits, and Ricky Gervais' Golden Globes opening monologue transcript proves it. It's not like most-recent hosts Tina Fey and Amy Poehler were particularly mild-mannered, but Gervais' jokes were dirtier and well, less classy. Although that kind of performance from him has been polarizing in the past — with Robert Downey Jr. memorably calling Gervais "hugely mean-spirited" in 2011 — the audience seemed generally pleased with the opening act.
Given that Gervais hosted the Globes for three consecutive years before handing the baton to Poehler and Fey in 2013, he knew what he was getting into hosting in 2016, and so did NBC. But, despite the British comedian's penchant for penis jokes, Gervais told The Hollywood Reporter that he stands by all of his jabs: "I can justify every joke I've ever done and if the joke is about someone, I can do it in front of them and tell them after why it's justified," he said, which was basically a promise to the celebrities at the Golden Globes that they were fair game. "Because I can see the future, I'd like to apologise now for the things I said at next week's Golden Globes. I was drunk & didn't give a f*ck," Gervais even tweeted earlier this month.
When the Jan. 10 ceremony began, Gervais didn't go easy (and at times getting controversial), swiping at the jugulars of entertainment juggernauts like Jennifer Lawrence, Caitlin Jenner and Sean Penn. Here's the transcript to prove it:
Thank you. Just shut up, you disgusting, pill-popping, sexual devient eating scum. I'm going to do this monologue and then go into hiding, ok. Not even Sean Penn will find me. Snitch.
Hello and welcome to the 73rd Annual Golden Globe Awards, live from the Beverly Hilton hotel. With all these rich, beautiful celebrities having the time of their lives. Let's hope no one spoils that.
Relax, I'm going to try and be nice. You're global mega stars with amazing talents. Most of you. A few of you just married well. You know who you are. We all do, we all do. We're live on NBC and it's right that NBC hosts this award show because they're the only network who were truly fair and impartial and that's because they're the only network with zero nominations, so nothing in it for them tonight. They don't care. They don't care, obviously.
As I said, I'm going to try and be nice tonight. I've changed. Not as much as Bruce Jenner, obviously. Now Caitlin Jenner, of course. What a year she's had. She became a role model for trans people everywhere, showing great bravery in breaking down barriers and destroying stereotypes. She didn't do a lot for women drivers, but you can't have everything, can you? Not at the same time. Anyway, so I am going to be nice tonight, I'll tell you why. The president of the Hollywood Foreign Press just told me if I sang an offensive or crass or resort to innuendo, he's going to come out here and personally pull me off. So that's an offer I couldn't refuse.
Yes, yes that is the level. An old man pulling me off... Again. At least Jeffrey Tambor did it in a dress. What a year he's had. Oh, what an actor, what a role. Every day, he's got to put on all those women's clothes and hair and makeup and let people film him. That takes balls. So, I don't know how he does it. I really don't. I've seen his balls. They're huge and long. I don't know if he tucks them in his bra or does that thing where you push them out the back and let them hang out like a bulldog. No one knows. I love Jeffrey Tambor. I don't know if that's because he's such as great actor or he reminds me of my nan.
One Hollywood publication said that me hosting would mean that film stars would stay away for fear of being made fun of. As if film stars would stay away from the chance of winning a Golden Globe. Particularly if their film company already paid for it.
So what's happened this last year, in this crazy business we call show? The excellent Spotlight has been nominated. Yeah. The Catholic church are furious about the film, as it exposes the fact that five percent of their priests have repeatedly molested children and been able to work without punishment. Roman Polanski called it the best date movie ever.
Jennifer Lawrence made the news when she called for equal pay for women in Hollywood. And she received overwhelming support from people everywhere. There were marches on the streets with nurses and factory workers saying, "How the hell can a 25 year old live on $52 million?" There were plumbers around the world going, "Poor girl... [indistinguishable]... Bloody hell."
But joking aside, of course women should be paid the same as men for doing the same job. And I'd like to say now that I'm getting paid exactly the same as Tina and Amy did last year for hosting. I know there was two of them, but it's not my fault if they want to share the money, now is it? That's their stupid fault. It's funny because it's true.
The Hollywood Foreign Press deemed The Martian a comedy and even nominated it and hence Matt Damon is here tonight, so that worked a treat, didn't it? To be fair, The Martian was a lot funnier than Pixels. But, then again, so was Schindler's List. Just a film.
Old female remakes are the big thing. There's a female remake of Ghostbusters. There's going to be a female remake of Ocean's 11. This is brilliant for the studios because they get guaranteed box office results and they don't have to spend too much money on the casts.
Listen, if you do win tonight, remember that no one cares about that award as much as you do. Don't get emotional, it's embarrassing. That award is, no offense, worthless. It's a bit of metal that some nice, old confused journalists wanted to give you in person so they could meet you and have a selfie with you. That's all it is. I've got three. I've got three Golden Globes myself. One's a door stop. One I use to hit burglars with and one I keep by the bed to... It doesn't matter why, it's mine. I won it fair and square. It's just the right shape and size. Yeah, so, to be clear, that was a joke about me shoving Golden Globes that I've won up my ass. And they've asked me to host four times! Let's do the show, shall we?
With an opening monologue like that, there's no doubt Gervais will continue to target nominees throughout the night. Whether you prefer that or the Poehler/Fey brand of humor, there's no denying that Gervais keeps it interesting.
Images: Frazer Harrison/Getty Images