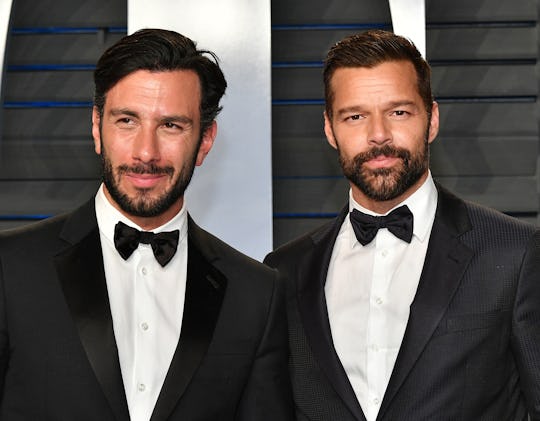 Dia Dipasupil/Getty Images Entertainment/Getty Images
Ricky Martin & Husband Jwan Yosef Are Expecting Baby No. 4
Ricky Martin and his husband, Jwan Yosef, are closing out 2019 on a high note. That's because at the Human Rights Campaign National Dinner in Washington, D.C. over the weekend, Ricky Martin announced he's expecting baby number four in the sweetest, most heartwarming speech, according to People. Talk about an exciting development for the couple and their adorable family.
Martin attended the dinner with his family to accept an award recognizing his "advocacy of LGBT rights and philanthropy," according to People. And during his acceptance speech, he made the huge announcement in regards to expanding his family. "My husband, Jwan, I love you, my beautiful twins, Valentino and Matteo, they're also here, I love you with all my heart, you're my strength, you inspire me every day, you motivate me to keep doing what I'm doing and you guys are amazing kids," Martin said, according to People. "You guys are amazing, I love you."
Martin also gave his 8-month-old daughter with Yosef, Lucia, a special shout out in the speech, too, according to People, before announcing his exciting news to the crowd. "And by the way, I have to announce that we are pregnant," Martin added. "We are waiting. I love big families."
Oh my word, how sweet!
If Martin wants a big family, then he's definitely on the way to getting one. He first became a father in August 2008 when a surrogate gave birth to his 9-year-old twin boys, Valentino and Matteo, according to People. At the time, Martin was raising the twin boys all on his own, which was a decision he was 100 percent confident about. Martin explained to People four months later that he always knew he wanted to become a father, and surrogacy was the best option for him. "I thought, 'I'm going to jump into this with no fear.' I put my name on the list for one baby, and then I found out I got two!," he said.
"I don't have a nanny," Martin he added. "I'm doing this on my own because I don't want to miss a moment."
Two years later, in 2010, Martin came out as a gay man, according to TMZ, citing his sons for a reason for being public with his sexuality. "To keep living as I did up until today would be to indirectly diminish the glow that my kids were born with," he wrote in a post shared to his website.
By 2016, Martin began dating his now-husband, Jwan Yosef, a celebrated artist, according to Oprah Magazine.
Martin revealed in January 2018 that they tied the knot, according to US Weekly, and welcomed their daughter together later that year in December, according to People.
Martin told Out in January 2018 that he wants his beautiful blended family to serve as an inspiration for other nontraditional families. "I want people to look at me and see a family and say, 'There's nothing wrong with that.' It's part of my mission. It's part of my kid's mission as well," he said. "My kids ask me about having two daddies and I tell them we are a part of a modern family. This is a beautiful sense of freedom."
Martin clearly loves being a father, and that could not be any more apparent in his announcement over the weekend. As Martin said it himself, he loves big families. And that's definitely what he's going to get when his newest arrival makes their way into the world within the next few months.
Although Martin did not reveal any more details about the baby-to-be during his speech, I'm sure that time will come soon. And I know I can't wait to watch Martin's continued journey through fatherhood, as it's only going to get more exciting.