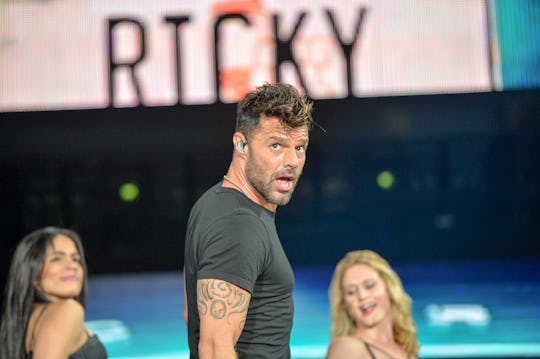 Ricky Martin Launches "LGBT For Hillary" Days After Her LGBT Ad Airs, & It's A Big Step For The Candidate
On Saturday, Puerto Rican pop star Ricky Martin announced "LGBT for Hillary" in an email and asked voters to join her campaign. The star, who came out in 2010, shared his story and said he believed Clinton could make a difference in furthering LGBT rights. "Growing up in the U.S. territory of Puerto Rico, I never dreamed that I would one day be a proud, out gay father of two beautiful little boys, in a country where marriage equality was the law of the land. Now, that's just an average day — that's what real progress is," he wrote.
He added his endorsement of the candidate by saying:
Hillary knows this, and she's not going to stop fighting. But in order to protect and build on the progress we've made, we need to win this election.
Clinton came out in favor of gay marriage in 2013, although she was previously opposed to it — which the world has not forgotten. In fact, her husband, former president Bill Clinton, signed the Defense of Marriage Act in 1996, aimed at defining marriage as occurring between a man and a woman under federal law (for both benefits and federal programs). It seems, however, that Clinton has changed her mind. Last week's ad for LGBT rights focused on the fact that despite federal law bringing marriage equality into play this year, the United States still has a way to go for LGBT equality.
Martin has been supportive of Clinton's very anti-Trump-ish tendencies to support Latinos in the United States. In an op-ed he wrote for Fusion in August, he said that the fact that Trump "has the gall to continue to freely harass the Latino community day after day makes my blood boil." He later told BuzzFeed that he was stepping up to support Hillary Clinton:
Time after time, Hillary has shown her commitment to the Latino community and that is why I'm so proud to support her and to stand with her.
Personally, I'm loving Clinton's straightforward ad, and as a girl who grew up with Ricky Martin playing on the radio, I'm happy to see him standing up for both the LGBT and Latino crowd. More importantly, Martin's endorsement shows that people are paying attention to Clinton for all the right reasons — and they're believing in her promise to support, encourage, and maintain individuals' rights.
What's that saying about honey attracting more flies than vinegar? Supporting communities that need the representation is always the way to go, and Hillary caught on to that pretty fast.
Image: Rodrigo Varela/Getty Images