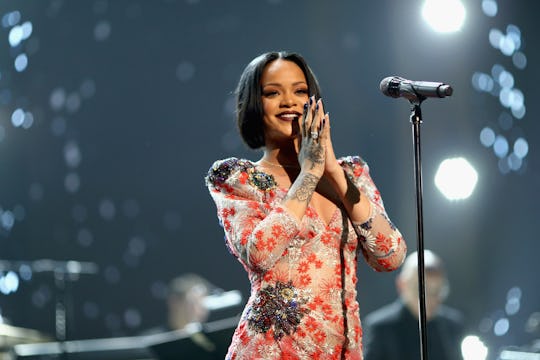 Christopher Polk/Getty Images Entertainment/Getty Images
Rihanna Drops The 'Work' Video, & It's Really Two Videos In One
The wait is over: following the release of a teaser video on Twitter Friday, Rihanna shared the full video for "Work" Monday, according to Entertainment Weekly. "Work" is the first single from Rihanna's latest album, ANTI, which was released on Tidal Jan. 28 and features long-time collaborator Drake. But, at more than seven minutes long, the video for "Work" seems to actually be more like two videos, made by two different directors (maybe she couldn't decide which one she liked better?).
In the first half of the video, Rihanna and Drake show up to a party at a dimly-lit Caribbean restaurant where RiRi shows off some pretty NSFW moves. And just when you think it's all over, a second, totally separate video kicks in unannounced, this time with Drake and Rihanna alone in a neon-lit pink room, where RiRi shows off — surprise! — even more badass dance moves.
Rihanna has had a bit of a bumpy year so far career-wise: she recently canceled her scheduled performance at the Grammys at the last-minute, according to TIME, as well as the start of her world tour. First-week sales of ANTI were bumpy, according to The Verge, but chances are the release of this new video will be enough to push "Work" from it's current chart position at No. 4 to No. 1, ousting Justin Bieber's grip on the top spot, according to Billboard.
Rihanna and Drake are no strangers to scoring hit songs together: according to The Verge, both 2010's "What's My Name?" and 2011's "Take Care" cracked the Top Ten on the charts. For his part, Drake seemed pretty proud of their most recent collaboration, taking to Instagram to show his support for Rihanna's new single with a video still of the two of them together.
And, unsurprisingly, fans are freaking out on Twitter. Because obviously:
Enough said.