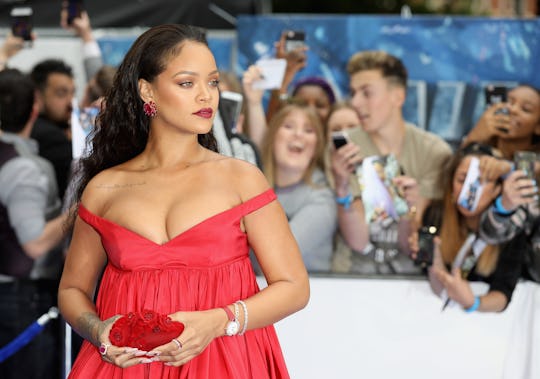 Tim P. Whitby/Getty Images Entertainment/Getty Images
Rihanna Is Giving Bikes To Little Girls For The Best Reason Ever
It's basically an undisputed fact that Rihanna is a gift from heaven, right? While the singer and philanthropist has a list of accomplishments about as long as the number of people who have left the Trump administration so far (basically, a lot), she also has a heart of gold. The eight-time Grammy winner has long been working towards equality across the globe, through her Clara Lionel Foundation, which she founded in 2012. And now, Rihanna is giving bikes to little girls for the coolest reason ever. Her Clara Lionel Foundation is partnering with the bike-sharing company, ofo, to "provide bikes to young girls in Malawi to help them get to school quickly and safely," per Teen Vogue.
The Clara Lionel Foundation's mission, according to its website, is as follows: "In the fight against injustice, inequality, and poverty, access to​ education and health​ is our most powerful weapon." And Rihanna's latest outreach program is doing just that. As the singer/goddess herself said in a statement:
I'm so happy about the Clara Lionel Foundation's new partnership with ofo because it will help so many young people around the world receive a quality education, and also help the young girls of Malawi get to school safely, cutting down those very long walks they make to and from school all alone.
Ugh, could she get any more perfect? Well, actually, yes. Because not only will her foundation provide girls in Malawi with bikes, but the bike company is helping to take things to a whole new level. Per the foundation's statement,
In addition to the unique collaboration in Malawi, ofo also carried out "1 KM Action" to support CLF's Global Scholarship program to provide scholarships to students from China, Brazil, Barbados, Cuba, Haiti, Grenada, Guyana, and Jamaica who are accepted to an accredited four-year college or university in the United States. ofo will provide scholarships to students, particularly to those interested in studying topics related to the environment and sustainability.
So, yeah. Bikes and scholarships? Rihanna truly is a gift from above.
As an Ambassador for the Global Partnership for Education and with Global Citizen, Rihanna is no stranger to the struggles that girls around the world face in receiving a proper education. So her latest move comes as no surprise, although it is still seriously sweet.
Truly, everyone deserves access to education, no matter who they are. Rihanna's foundation's latest charitable initiative works in a new way to help girls become the strong, independent, and educated women that they can be. And that's pretty awesome.