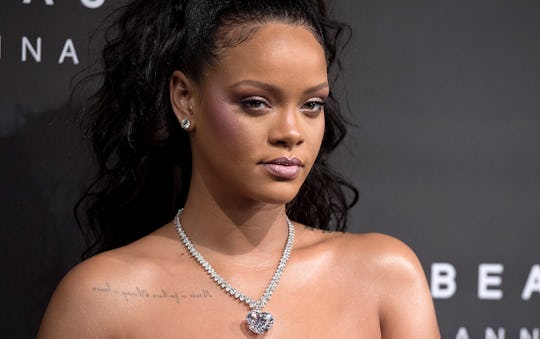 Chris J Ratcliffe/Getty Images Entertainment/Getty Images
Rihanna Powerfully Tells President Trump Not To "Let Your People Die" In Puerto Rico
I, like millions of people in this world, am a huge Rihanna fan. And not just for her music or her amazing fashion sense. No — I love Robyn "Rihanna" Fenty because of her outspoken activism and overall humanitarian work. The award-winning singer has donated her time and money to various causes, including education and disaster relief. So it's no wonder she would take the government to task for its slow response following Hurricane Maria. On Thursday, Rihanna told President Donald Trump not "to let your people die" in Puerto Rico in a powerful tweet criticizing his failure to act.
According to CNN, Rihanna reached out to the president early Thursday morning via social media, calling attention to the humanitarian crisis facing the people of Puerto Rico following the catastrophic storm. The singer tweeted, along with a photo of New York Daily News' Wednesday cover,
Dear @realDonaldTrump I know you've probably already seen this, but I just wanted to make sure! Don't let your people die like this. Puerto Rico needs more help, Mr. President!
Taken on its own, Rihanna's words are a powerful reminder that government inaction cost lives. But her tweet becomes even more heartbreaking when taken with the Daily News cover.
The Wednesday edition of the New York Daily News featured a forlorn women with her head down, resting on her clasped hands. The bold headline displays, "American Tragedy," while the standfirst reads,
No food, no water, no power, no medical care for the dying ... Puerto Rico needs more help, Mr. President!
Hurricane Maria devastated Puerto Rico after the Category 4 storm crashed into the U.S. commonwealth last week. The hurricane caused life-threatening floods, destroyed property, knocked out power, and killed at least 16 people, according to the Miami Herald. It also left Puerto Rico disconnected from the rest of the world, leaving many people in the U.S. mainland struggling to reach their loved ones on the island, Los Angeles Times reported. In some places, it may take months to get power back. In most areas — as the Daily News cover noted — water, food, and fuel are scarce.
Recovery will be a long road for millions of Puerto Ricans, and with no real help from the U.S. federal government. Prior to Rihanna's tweet, President Donald Trump dragged his feet on waiving the Jones Act, which is a federal law that limits shipping by foreign vessels in order to protect the financial interests of the U.S. shipping industry, according to CNN. Keeping the Jones Act in place meant it became twice as expensive to get emergency goods to Puerto Rico, leaving survivors without necessary relief.
Why did Trump refuse to suspend the law, despite politicians calling for it? Well, according to CNN, the president considered lifting the act, but "a lot of shippers" didn't want to see that happen. Let that sink in for a moment.
But hours after Rihanna's tweet, the U.S. government decided to waive the Jones Act for Puerto Rico, covering all products shipped to the island including equipment to repair damaged infrastructure and restore emergency services, CNN reported. The suspension, which was petitioned by Puerto Rico Gov. Ricardo Rosselló, will be effective for 10 days, but can be extended if needed after that period ends.
Of course, lifting the Jones Act was the right thing for the White House to do. But the action should have happened much sooner than Wednesday — a week after Hurricane Maria tore Puerto Rico apart. A week — hell, a day — is too long to keep survivors of a catastrophic natural disaster waiting for relief. It shouldn't take a celebrity to call a government to action.
Watch Romper's new video series, Romper's Doula Diaries:
Check out the entire Romper's Doula Diaries series and other videos on Facebook and the Bustle app across Apple TV, Roku, and Amazon Fire TV.