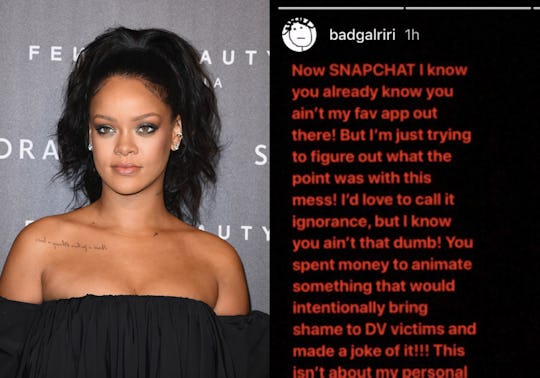 Pascal Le Segretain/Getty Images Entertainment/Getty Images; badgalriri/Instagram
Rihanna Just Shut Down Snapchat Over A Cringe-Worthy Ad Using Her & Chris Brown
As a domestic abuse survivor, Rihanna has no tolerance for ignorant comments about domestic abuse and the countless people it affects on a daily basis. Case in point: On Thursday, Rihanna slammed a Snapchat ad that made light of abuse. Not only is Rihanna sticking up for herself, but her message is in support of all the women and children out there who face violence everyday.
A Snap Inc spokesperson tells Romper in an email:
"This advertisement is disgusting and never should have appeared on our service. We are so sorry we made the terrible mistake for allowing it through our review process. We are investigating how that happened so that we can make sure it never happens again."
Earlier this week, Snapchat landed in hot water for an offensive ad it featured on its app to promote an unaffiliated game called, "Would You Rather?" The ad asked users whether they'd prefer to "slap Rihanna" or "punch Chris Brown," a question that is as hurtful as it is tone deaf. Many people expressed outrage about the since removed ad, including Chelsea Clinton. "Just awful. Awful that anyone thinks this is funny," Clinton tweeted on Monday, according to The Cut. "Awful that anyone thinks this is appropriate. Awful that any company would approve this."
Awful, indeed. Not only is it mind-boggling that any company would approve a joke about domestic violence, but it seems especially egregious that the game in question targeted a person who endured a horrific assault. As many fans already know, Rihanna survived a violent attack in February 2009 at the hands of her then-boyfriend, Chris Brown. Brown pled guilty to felony assault in June 2009, and a judge sentenced him to five years of probation and domestic violence counseling, according to the New York Daily News. Brown's lawyer, Mark Geragos, tells Romper in an email about the Snapchat controversy: "Somebody needs to slap SnapChat."
As for Snapchat's initial response to the controversy, a company spokesperson told Us Weekly on Wednesday:
The advert was reviewed and approved in error, as it violates our advertising guidelines. We immediately removed the ad last weekend, once we became aware. We are sorry that this happened.
But Rihanna isn't thrilled with Snapchat's apology. In a pointed message on Thursday, she wrote, according to HuffPost:
I'd love to call it ignorance, but I know you ain't that dumb! You spent money to animate something that would intentionally bring shame to DV victims and made a joke of it!!! This isn't about my personal feelings, cause I don't have much of them … but all the women, children and men that have been victims of DV in the past and especially the ones who haven't made it out yet … you let us down!
Although there's a lot to break down in Rihanna's powerful response, what especially stands out is her admirable mention of domestic abuse survivors and the people who "haven't made it out yet." Rihanna's message is a much needed reminder that about 20 people per minute experience domestic violence in the United States and that women aged between 18-24 are the most likely to be abused by a partner, according to The National Coalition Against Domestic Violence (NCADV). Rihanna was just 21-years-old when she was assaulted by Brown.
As for the children Rihanna noted in her post, domestic violence statistics for this group is as equally concerning. About 700,000 children are abused in the United States each year, according to the National Children's Alliance, and "five children die everyday as a result of child abuse," according to the American Society for the Positive Care of Children.
Additionally, children who either witness domestic abuse or are subjected to it are six times more likely to commit suicide, according to the Childhood Domestic Violence Association.
Clearly, domestic violence isn't a game and it's deeply unfortunate that it was trivialized in such a hurtful way. One can only hope that Rihanna's message acts as a wakeup call to all the people and companies out there who think it's OK to poke fun at domestic violence. Rihanna is a true queen, to say the least, and it's beyond commendable that she turned a terrible situation into a powerful PSA supporting domestic abuse survivors. May Rihanna forever reign.