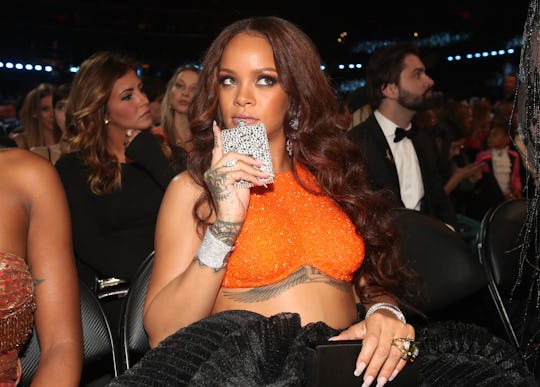 Christopher Polk/Getty Images Entertainment/Getty Images
Rihanna's Outfit At The 2018 Grammys Didn't Disappoint
Look, I love Beyoncé as much as the next person, but I would really like to spend a little bit more time talking about Rihanna. She has a slightly harder edge than Beyoncé, and a slightly more IDGAF attitude, which I appreciate. That's why I was very much looking forward to seeing Rihanna's 2018 Grammys outfit, and let me tell you it did not disappoint. RiRi showed up in what looked to be a shiny brown raincoat with matching pointy-toed boots and gloves and big, amazing hair. Sure, when described that look doesn't sound like it screams amazing, but Rihanna was wearing it. So it did.
At the 2017 Grammys, Rihanna's bright orange bra top and huge princess-y black skirt were gorgeous together, but she earned my unending loyalty and adoration with her bejeweled flask that she surreptitiously sipped from throughout the ceremony. At the 2018 Grammys, Rihanna was just as cool and queenly as ever in her coat-dress and matching accessories. Nobody but Rihanna could pull this look off. Twitter, obviously, was a huge fan of the idol's outfit.
At the 2017 Grammys Rihanna's incredible album ANTI was largely snubbed, though it garnered several nominations. At the 2018 Grammys, Rihanna returned both as a nominee (and winner) for Best Rap/Sung Performance with Kendrick Lamar on "LOYALTY," as well as a performer. Other nominees in this category included 6LACK, Goldlink Featuring Brent Faiyaz & Shy Glizzy, JAY-Z Featuring Beyoncé, and SZA Featuring Travis Scott. The Grammys opened up strong with this category as the first award announced — and I am so glad that Rihanna and Lamar took it.
Since Rihanna for some reason skipped the red carpet, this was how she debuted her Grammys look, and it honestly couldn't have been better. Who needs a red carpet moment when Rihanna can show up and just accept an award? This win also convinced me that I am not the only person who truly appreciates how incredible Rihanna is.
Lamar himself offered up the award to Rihanna, saying, "She came through and gassed me on my own song." He continued, "So this really belongs to her, real talk," and invited her up to say a few words. Graciously, Rihanna simply thanked Lamar for giving her the opportunity to work with him on the record, and called herself "honored."
Though it wasn't quite as exciting as her win, people still had a lot to say about Rihanna's incredible outfit at the Grammys. It's the sort of look that literally nobody but Rihanna could pull off and make look incredible. Seriously, if I stepped outside my house wearing something like that I probably wouldn't make it half a block before running back to my apartment to change. And I live in Brooklyn. Twitter, obviously, had a lot to say about it.
She got a Donna Summer comparison:
A Star Trek reference (in a good way):
And an old school Missy Elliott shout out:
Many Twitters had the same thought I had about mere mortals trying to wear an outfit like this.
Other people were simply left in awe.
But not everybody was a fan.
I guess you can't please everybody though.
So sure, Beyoncé wasn't at the Grammys this year. But I don't think we need Beyoncé when we have Rihanna to show all of us how to make an amazing song and prove that even confusingly colored pleather raincoats can look hot as hell if you try hard enough. Or, if you're Rihanna. Now I'm just gonna need a new album from her in the next year or so. Thanks.
Check out Romper's new video series, Romper's Doula Diaries:
Watch full episodes of Romper's Doula Diaries on Facebook Watch.