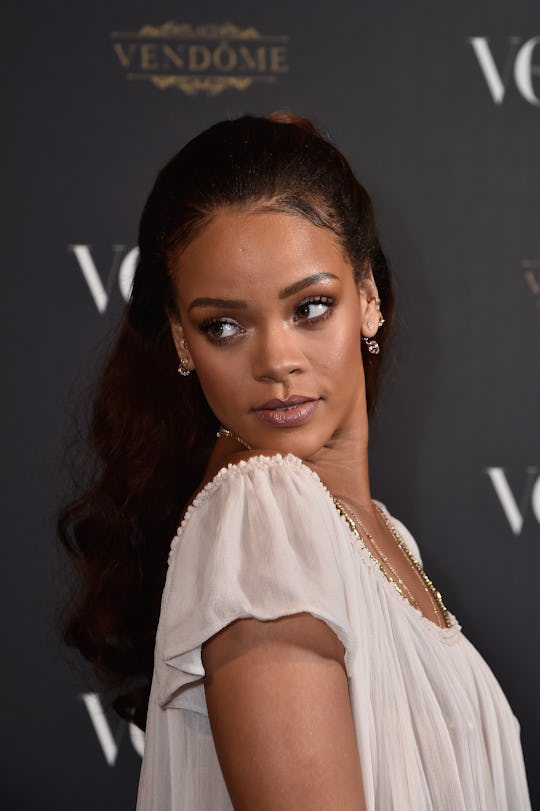 Pascal Le Segretain/Getty Images
Rihanna's Allegedly Releasing A Marijuana Line With The Best Name Imaginable
Marijuana could be getting an amazing makeover thanks to one pop star we all know and love. 18 Karat Reggae Gold claims in a report that Rihanna is launching her own marijuana brand in 2016 called — wait for it — MaRihanna. (Get it?) According to the site, the strain "includes many different types of marijuana flower, including flavors like Karibbean Kush, Haitian Haze and Jamaican High Grade, as well as edibles and concentrates." Though the line is unconfirmed, USA Today reports that Rihanna announced her marijuana line at the Cannabis Cup in Jamaica. Though Romper reached out to Rhianna's rep, requests for comment were not immediately returned.
Whether or not the report is legit, the "Bitch Better Have My Money" singer is known for her love of cannabis. (I mean, Vogue even put together a slideshow of Rihanna's best stoner-themed looks.) It wouldn't be a major surprise, then, if she were to go after a chunk of the marijuana market, right? And let's remember: Weed isn't the most random thing a celebrity has ever put their name on. Here are a few other choice favorites:
Jessica Simpson's Dessert Beauty Line
Jessica Simpson's line of edible beauty products ended in plenty of litigation after its 2004 launch, with a cosmetics company named Cosmojet suing Simpson over the manufacturing of some of Dessert's products and a guitarist suing over claims that she owned the phrase "Love Potion," which Simpson used in a product named Dessert Beauty Deliciously Kissable Love Potion. (In the former case, a rep said Simpson had "no involvement in the day-to-day operation of the company's business." In the latter case, Simpson was victorious since the phrase couldn't be copyrighted.) Whether you take your makeup with or without sprinkles, Tori Telfer's telling of the Dessert saga for Bustle is worth a read.
Mary-Kate & Ashley Olson's Aquafresh Toothpaste
Seriously — toothpaste! But that's not all: MTV recently reminded us of Mary-Kate and Ashley's surprising product endorsements, from a boombox to a board game. And who could forget the Mary-Kate and Ashley dolls?
Katy Perry's Kitten Collection for Claire's
Katy Perry is clearly a fan of cats, so her collaboration with Claire's isn't so much random as it is delightful. Expect tights, hats and phone cases adorned with whiskers.
Taylor Swift Sundresses
Remember when Taylor Swift was never caught on camera in anything other than a sundress and cowboy boots? Teenagers of 2009 got to buy their own Swift-designed dresses from her L.E.I. line for Walmart.
The Cheetah Girls Toothbrushes
"The Party's Just Begun" when you pick up a Tooth Tunes brush featuring The Cheetah Girls. Other musicians featured on the brushes include Hannah Montana, Jesse McCartney and the Jonas Brothers.
So yea, see? Maybe Rihanna's alleged weed thing isn't so random after all.
Images: Pascal Le Segretain, Taylor Hill, Fernando Leon, Carlos Alvarez/Getty Images