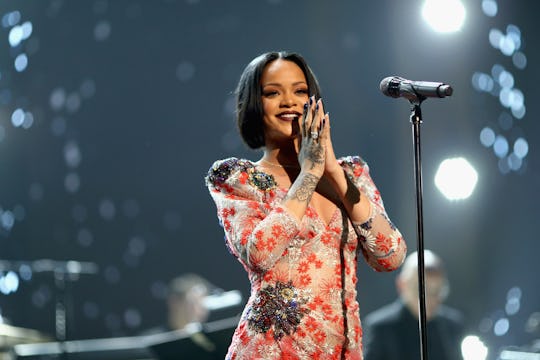 Christopher Polk/Getty Images for NARAS
Rihanna's Apology For Canceling Her Grammys Performance Was Gracious, But Unnecessary
To the dismay of many, Rihanna suddenly canceled her performance at the 58th Annual Grammy Awards, reportedly bowing out on the advice and urging of her medical staff because she had bronchitis. The A-list singer left the Staples Center, went home, and tweeted an apology to her fans. And while Rihanna's apology for canceling her Grammys performance was entirely gracious, it said a tremendous amount about the relentless demands placed on performers, musicians, and artists.
According to TMZ and sources close to production, Rihanna was suffering from a severe illness that could have greatly affected her ability to perform not only effectively, but safely. Romper reached out to CBS after news broke of Rihanna's performance cancellation and a spokesperson responded, saying:
Based on Rihanna's examination, after Grammy rehearsal today, Rihanna's doctor put her on vocal rest for 48-hours because she was at risk of hemorrhaging her vocal chords. The antibiotics she has been on for 3-days did not kill the infection adequately therefore she cannot perform safely.
Hemorrhaging her vocal chords? That type of injury is not only dangerous, but could be career-ending. So why did Rihanna feel the need to apologize for taking care of herself? Well, because society doesn't seem to care about the people it simultaneously worships. Not if they aren't doing something for us, and all the time.
Here's what Rihanna tweeted:
Celebrities and performers are constantly bombarded with appearance requests and chased by paparazzi to feed the enormous American appetite for details of their lives. The public feigns concern for their personal lives while simultaneously searching the Internet for the latest gossip and the most shamelessly shared secrets. And when it comes to real problems — medical, mental, or otherwise — these public figures who also happen to be human beings are expected to apologize for interrupting the flow of constant entertainment that the public has learned to expect.
Enough is enough. While it is kind and gracious of RiRi to issue an apology, she really didn't need to. She doesn't owe anyone an explanation for why she couldn't make it, especially when the reason was very real, very serious, and possibly very detrimental to her wellbeing and her continued way of life.
Just focus on getting better, Rihanna! There are plenty of Grammys performances in your future.