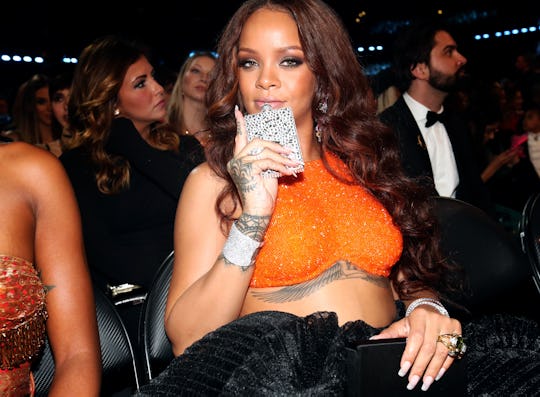 Christopher Polk/Getty Images Entertainment/Getty Images
The Internet Loves Rihanna's Diamond Flask
Show me an adult who is having a better time at the Grammys than Rihanna and I'll literally fork over my savings. The singer, who wasn't slated to perform, brought her own ~~accessories~~ to the show and all the Rihanna's diamond flask tweets and memes are a reminder that she's having more fun than all of us — except maybe Blue Ivy, but she can't drink yet, so she's out of the running for this race, OK? Nominated for seven awards this year — Best Pop Duo/Group Performance for "Work"; Best Urban Contemporary Album for Anti; Best Rap/Sung Collaboration for "Famous"; Best Recording Package for Anti; Best R&B Performance for "Needed Me"; Record of the Year for "Work"; and Best R&B Song for "Kiss It Better" — it felt like 2017's award show would be an opportunity for Rihanna to sit back and enjoy the night without all the pressure of putting on a performance.
And with the show quickly winding down, we see that Rihanna was actually one of the most memorable acts of the night, not for her presence on the stage, but for her antics off the stage — all thanks to her diamond flask.
She Did It — She Really Did The Damn Thing
It's Time
Look, It Me
She's The Voice Of Her Generation
Been There, Done That
I Mean, I Get It?
RiRi Forever
No matter how many awards Rihanna does or doesn't walk away with by the end of the evening, it's clear that the artist walked away with growing admiration from RiRi's Navy and from all those watching the show. If we've learned anything throughout the years, it's not always what you do in the limelight that leaves a lasting impression; it's what you do behind the scenes — and everything RiRi did tonight is proof we won't soon forget just how much fun Bad Girl RiRi can be.