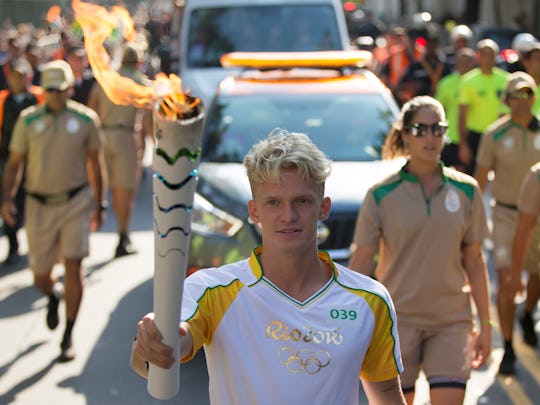 Buda Mendes/Getty Images Sport/Getty Images
Rio Olympic Flame Photos & Video Capture The Inspirational Symbol Of The Games
On Friday night, the Rio Olympic torch, which is carried all the way to the Rio Olympic cauldron, lit the cauldron and signified the official beginning of the 2016 Olympic Games in Brazil. Former long-distance runner Vanderlei Cordeiro de Lima carried the torch to the cauldron on Friday, and photos and videos of the Rio Olympic flame were pretty damn inspiring.
De Lima was an inspirational choice for Brazil because he was reportedly attacked by a spectator during the Athens Olympic Games while leading the men's marathon, according to the IAAF. Because of the attack, de Lima didn't medal that year, but he was still given a sportsmanship medal. He later said of the attack, according to IAAF:
The attack was a surprise for me. I couldn't defend myself because I was concentrating on my race. I don't know what would have happened if the Greek man who helped me so quickly (Polyvios Kossivas) hadn't reacted the way he did. I give him a lot of credit for his courage.
Perhaps things could have been different, because I started to have problems after that, I couldn't concentrate. It was very difficult for me to finish. With my sense of Olympic spirit I showed my determination and won a medal.
It's clear that de Lima was the right choice to light the Olympic cauldron, which is a symbol of just how hard all of the athletes work. It will burn throughout the games, and it will never quit.
Regardless of whether you're into sports, watching the Olympic flame travel hundreds of miles and finally reach its destination at the cauldron is pretty inspiring. And the same can be said for watching athletes who spend their lives preparing for only a few moments at the Olympic Games. Now, it's time to see who will take home the medals.