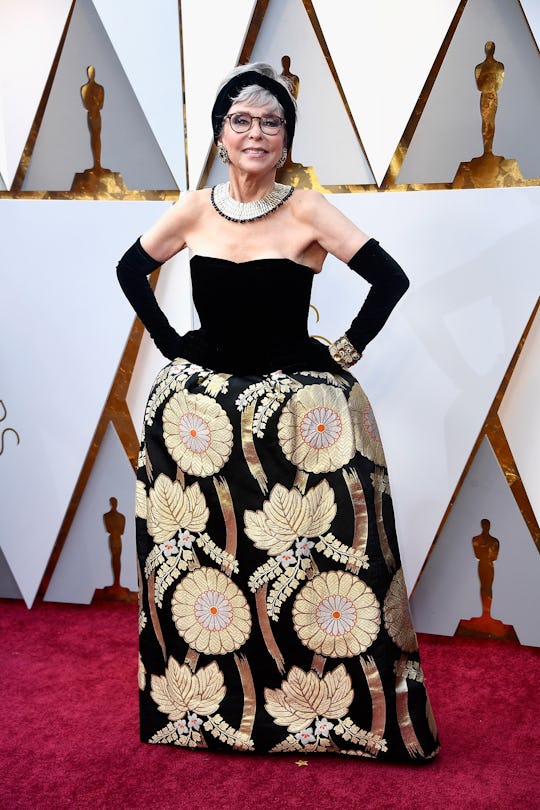 Frazer Harrison/Getty Images Entertainment/Getty Images
Rita Moreno's Oscars Dress May Look Familiar & It's For An Adorable Reason
Rita Moreno is having a whirlwind awards season, thanks largely to the fact that the New York Times identified her in a photo caption as "Norman Lear's guest" at the Golden Globes and not, oh, I don't know, "one of only 12 EGOT winners and a prolific actress who's still working after seven decades in the industry." She was on Lear's arm at the Globes because she's currently killing it in the Netflix reboot of his successful 1970s sitcom One Day at a Time, but Rita Moreno's Oscar outfit included a West Side Story callback, honoring her iconic role in one of great classics of American cinema.
In 1962, she won her first and only Oscar — Best Supporting Actress for her role as Anita in West Side Story — and she wore the very same dress to that awards show. Moreno said in an E! red carpet interview on Sunday that she was expecting to lose to Judy Garland that year, and flew back from Manila in the Philippines (which is also where she bought the gown) to attend the Oscars at the last minute. It's a good thing she decided to show up, because she won her category and thus began her journey on the road to EGOT-dom. The Puerto Rican actress claims that the dress has been hanging in her closet all these years and it looks pretty pristinely preserved.
"The fabric is made out of obi, which is the sash that Japanese women use on their kimonos," she told Ryan Seacrest on the E! red carpet. "They're usually folded over and over and over; this is one piece of fabric."
There is a minor structural difference to the dress (or it's possible that the skirt and bodice are two separate pieces); the 1962 version was a high-necked sleeveless ensemble, and the modern-day version she wore to this year's Oscars was strapless. But she kept the long black gloves with the outfit and added a gold and black statement necklace. She gushed over how fond she was of the gown in an interview with People TV, saying:
This is a 56-year-old gown that I wore when I won my Oscar in 1962. This is the dress. It's been hanging in my closet and I go and stroke it now and then. I just love — it was an amazing night. They didn't have a red carpet then, it was so different.
Moreno had another big moment this season at the Screen Actors Guild Awards, where she received a standing ovation as she presented Morgan Freeman with the Lifetime Achievement Award. Their work together dates back to the 1970s children's TV series The Electric Company, and the history they share was apparent in their dynamic as they lovingly bantered back and forth on the SAG Awards stage.
Moreno earned her Grammy Award in 1973 for Best Children's Recording for her work on The Electric Company album. Then came her Tony for Best Actress, Supporting or Featured (Dramatic), in 1975 for her role in The Ritz. And finally, she completed her EGOT in 1978 with an Emmy Award for her work as a guest actress on an episode of The Rockford Files. Of course, her career continued to stretch on for decades, with guest spots in recent years on Grey's Anatomy, Grace and Frankie, and Jane the Virgin.
She was at the Oscars to present the award for Best Foreign Language Film, and was introduced with a clip from West Side Story. Moreno struck a pose as the lights came up on her, winning over the audience and getting yet another standing ovation.
Check out Romper's new video series, Romper's Doula Diaries:
Watch full episodes of Romper's Doula Diaries on Facebook Watch.