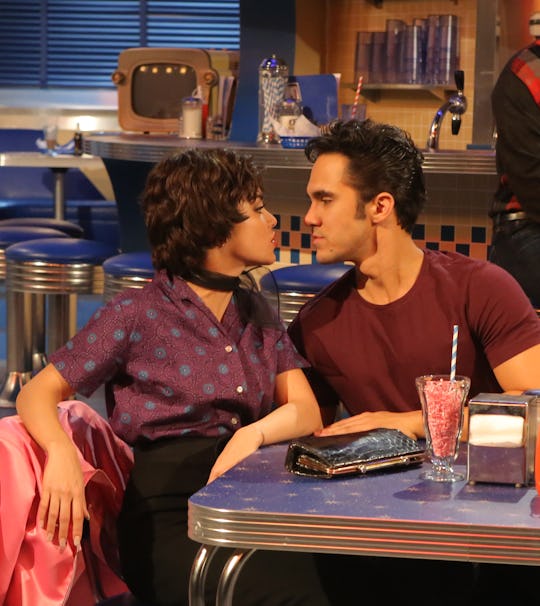 Kevin Estrada/FOX
Rizzo's Pregnancy In 'Grease: Live!' Was Handled Perfectly & Vanessa Hudgens Totally Owned It
"Grease" was the word as FOX brought the smash hit Grease to twenty-first century fans with Grease: Live! on Sunday. When the musical-turned-movie first premiered on a Chicago stage in 1971, audiences and critics alike balked at its rowdy — and at times raunchy — lyrics and lines. But that's part of the show's charm; it's what made Grease so endearing as an American classic with its candid portrayal of 1950s teenage life. Grease didn't shy away from topics such as sex, drugs, or even teen pregnancy. In this new hybrid version of the musical, Rizzo's pregnancy in Grease: Live! got its own updated treatment, thanks to the vocal stylings of one particularly gifted actress.
Producer Marc Platt had previously said that Grease: Live! would combine elements of both the stage and movie versions of the musical. During a press tour earlier this month, Platt said "We're doing what we think is the best version of Grease that fits a live television format." While some of the more dated and off-color material has be updated for live television, actress Vanessa Hudgens — cast as Betty Rizzo, the tough-as-nails leader of the Pink Ladies of Rydell High School — confirmed that Rizzo's pregnancy scare was still in the script: "Even though it has this fun lightheartedness about it, there's some real stuff going on."
In both the 1971 stage production and 1978 movie, Rizzo had a pregnancy scare after having sex with Kenickie. She confessed her fears to her friend Marty in this classic line: "I feel like a defective typewriter: I skipped a period." Marty — ever the blabbermouth — tells everyone and Rizzo's secret spreads like wildfire through the school. Rizzo responds to her whole ordeal with her big ballad, "There Are Worse Things I Can Do."
Rizzo's tune is where belt-y Broadway ballad meets feminist anthem, especially when you consider the decade it which Grease was set, and even the early '70s, the decade when it was first written and performed. The song is Rizzo's response to — and defiance of — 1950s cultural norms. And let's not forget: Rizzo gets lucky it was just a scare, considering what it was like to actually have an abortion in the '50s.
While it might seem like Rizzo's pregnancy scare in Grease: Live! is still a controversial issue for today's audiences, fans were looking forward to its inclusion:
Yes, you read that right: According to NPR, in most "clean" high school versions of the musical script, Rizzo's entire pregnancy-scare subplot is completely removed — which, all things considered, it pretty sad. Luckily, Sunday's live Fox broadcast decided to go the traditional route as planned, keeping the sobering side-story in.
And, as it turns out, viewers were largely loving it, with several commenting that the inclusion was a breath of fresh air from past days, when the subject was either overlooked or hush-hush. Here's what people were saying that infamous Rizzo pregnancy scare, and Rizzo's soliloquy on Twitter:
I think Hudgens totally nailed it as Rizzo tonight, bringing gorgeous new life to "There Are Worse Things I Could Do" — more importantly, she reminded us that women can be more than the labels society tries to place on us.