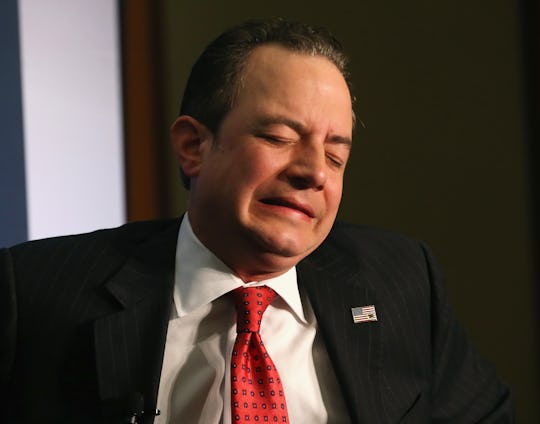 Mark Wilson/Getty Images News/Getty Images
RNC Chair Says People 'Don't Care' About Donald Trump's Sexism. Let's Hope He's Wrong
Poor Reince Priebus. Not only does the chairman of the Republican National Committee have a name that never quite seems to make sense, he's now found himself tasked with defending presumptive nominee Donald Trump, and the never-ending work seems to be taking a toll. On "Fox News Sunday," when questioned about allegations of Trump's mistreatment of women, the RNC Chair said people "don't care" about Trump's sexism. There's a chance that Priebus may be right, at least when it comes to some voters, and that's pretty terrifying.
Fox News anchor Chris Wallace pressed Priebus on a story published Saturday by The New York Times, which detailed Trump's toxic treatment of women over the last four decades. The article, drawn from 50 interviews with men and women who had worked with, dated, or otherwise crossed paths with Trump, highlighted the real estate mogul's obsession with talking about the female form, his demeaning nicknames for women in the workplace, and his history of making unwelcome advances.
When Wallace asked Priebus if the story bothered him, the RNC Chair at first demurred, saying he was "the wrong person" to ask. When Wallace pointed out that he was the head of the party nominating this man for office, and therefore seemed like exactly the right person, Priebus responded:
I've got to tell you, I think that all these stories that come out and they come out every couple weeks, people just don't care. I think people look at Donald Trump and say -- and Hillary Clinton and say, who is going to bring an earthquake to Washington, D.C.?... I don't think Donald Trump in his personal life is something that people are looking at and saying, well, I'm surprised that he has had girlfriends in the past. That's not what people look at Donald Trump for. So I think the traditional playbook and analysis really don't apply.
Wallace pointed out that, of course, the issue was not about Donald Trump having had a lot of girlfriends. The issue was whether or not the RNC chair was going to do anything about the long list of allegations involving mistreatment, misogyny, and humiliation. Priebus tried to backtrack, saying, "All I am saying, though, is, is that after a year of different stories, you know, nothing applies."
And, unfortunately, there's a chance that Priebus might be right. Trump has not exactly been shy about his sexism over the course of this campaign. He's made public remarks demeaning various women and in some cases, those remarks have won him thunderous audience applause. (Just re-watch the moment from the debate where he insulted Rosie O'Donnell.) If anything, some voters seem to like that Trump is a sexist, just like some voters seems to like his racism and xenophobia. Incidents that should sink his campaign seem to bounce off him with minimal damage, and the Times article may be just the latest example.
Still, there is encouraging news for those hoping that Trump will never ascend to the highest office in the United States. 7 in 10 women view him unfavorably, according to an April Gallup poll. Fingers crossed that 7 will turn to 8 (or 9!) given the new evidence from the Times report.
And as the convention approaches, let's all keep an eye on how Priebus is doing. As he admitted to Wallace in the same interview, "everything bothers me." Trump may be breaking him.