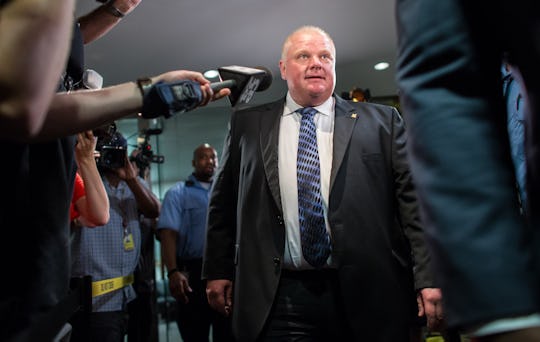 GEOFF ROBINS/AFP/Getty Images
Rob Ford Dead At Age 46 After 18-Month Cancer Battle
After an 18-month battle with cancer, former Toronto mayor Rob Ford died on Tuesday at Mount Sinai Hospital in Toronto, according to the Associated Press. He was 46 years old. Ford, who spent four years as mayor of Toronto, gained international notoriety for his high-profile struggles with substance abuse and addiction. In September of 2014, Ford was forced to drop out of a campaign for re-election when he was diagnosed with pleomorphic liposarcoma, a rare form of soft-tissue cancer.
In May of last year, Ford underwent operations to remove tumors, which appeared to be successful. However, by fall of 2015, the cancer is said to have been aggressively recurring, putting Ford back into treatment. After continued treatment at the end of 2015 and into this year, word started circulating earlier this week that the former mayor had been moved to palliative care after all attempts to stymie the progression of his cancer proved unsuccessful.
News that Ford's prognosis wasn't looking favorable didn't come as a complete shock: Just this month, members of his family launched getwellrobford.com to collect well wishes from supporters. The site garnered more than 7,500 comments.
Ford is survived by his wife, Renata, and two children, Stephanie and Doug.