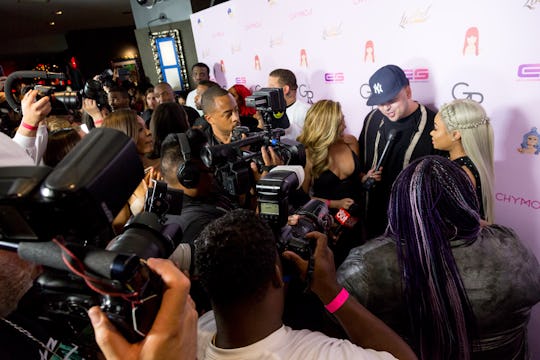 Greg Doherty/Getty Images Entertainment/Getty Images
Rob Kardashian Needs To Apologize To Blac Chyna — Now
2017 has almost been somewhat comical in terms of how ridiculous the news cycle has become. Headlines that not even political satire writers could have imagined are now commonplace and celebrity feuds are almost a daily occurrence. And while, of course, some of these so-called feuds aren't even worthy of an eye roll (looking at you, Katy Perry), some are a little more troubling. Take, for example, Rob Kardashian and Blac Chyna. The pair of exes, who were engaged and now share a daughter together, have some serious drama going down. And now, Kardashian has arguably apologized to the wrong person for his Instagram rant, and it's seriously infuriating.
Last week, Kardashian went on a social media rampage against Chyna, posting explicit photos and videos of her, allegedly without her consent to both his Instagram and Twitter accounts. Kardashian's Instagram account was shut down immediately. However, the chaos hasn't ceased since then. Chyna was granted a temporary restraining order against Kardashian, and told reporters she was ready to get back to co-parenting 8-month old Dream Renée Kardashian, all while reportedly worrying over whether it might happen again from a different source.
Notably, not one member of Kardashian's famous family has spoken out publicly about the incident, and Kim's only response was to send over a copy of a non-disclosure agreement Chyna had allegedly signed back in 2016 when she appeared on Keeping Up With the Kardashians. (Romper previously reached out to Chyna's lawyer for comment on the NDA but did not immediately hear back.) But now, an anonymous source has claimed that Kardashian himself has apologized — just not to Blac Chyna directly it seems, outside of his lawyer. (As far as anyone knows.)
Per an anonymous source who spoke to E! News,
Rob did apologize to the family and has major regrets over the way he acted. He is very remorseful and upset with himself over what he did. Now, he is embarrassed and knows he needs to be better for Dream.
However, shouldn't Kardashian be taking to time to reach out to Chyna, if he hasn't already? Or at least issue a statement apologizing to the mother of his child? While he definitely owes his family an apology since his actions likely embarrassed and offended him, he also owes Chyna a sincere apology, so if he hasn't done so yet, that should definitely be his next move.
Seriously, there's nothing funny, or lighthearted about revenge porn, and Kardashian's alleged actions are unacceptable. Not only do they impact Chyna, they also impact his daughter. To see her mother be shamed by her father will have lasting consequences for Dream, and Kardashian needs to own up to that.
Allegedly, Kardashian's mother, Kris Jenner, agrees with the above sentiment. Another source who spoke with E! News said that Jenner "really put him in his place" and "told him that this was going to affect Dream in many ways if he didn't get his act together." (You tell him, Kris.)
If he hasn't already, Kardashian would be wise to reach out through his attorney and send his ex a sincere, personal apology. Saying sorry to your family for messing up is all well and good, but not doing the same for the person you may have hurt undeniably cancels it out.