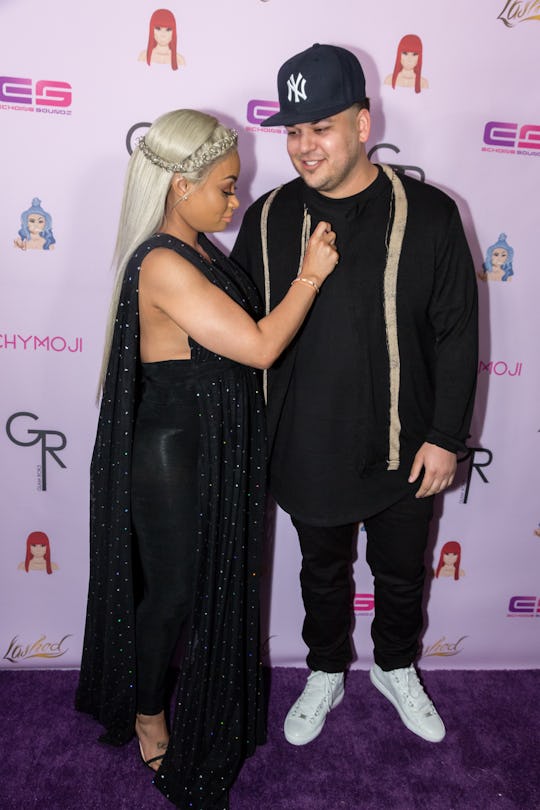 Greg Doherty/Getty Images Entertainment/Getty Images
Here's Why Rob Kardashian & Kylie Jenner Are Reportedly Suing Blac Chyna
Is it just me, or is keeping up with the Kardashians lately, well, exhausting? Between Kim Kardashian's now confirmed surrogacy rumors, Kylie Jenner's reported pregnancy last week, and news that Khloe Kardashian is also reportedly pregnant with her first child, it may feel like their brother has been totally forgotten. Well, that doesn't appear to be the case anymore, because now Rob Kardashian is reportedly suing Blac Chyna for alleged assault and battery — and it turns out that his little sister is involved, too.
Romper has reached out to Kardashian's representative and Chyna's lawyers for comment on the lawsuit, but did not receive an immediate response.
Kardashian has reportedly filed a lawsuit against Chyna after she allegedly attempted to strangle him with an iPhone cable, according to Entertainment Tonight. According to legal documents obtained by the outlet, Kardashian claimed that the incident with his former 29-year-old model girlfriend occurred on Dec. 14, 2016. On that day, Chyna reportedly called his friends using FaceTime while playing with Kardashian's gun and pointing it at the camera's phone, according to the Entertainment Tonight report.
The 30-year-old reality star also claims that Chyna allegedly attempted to strangle him with a phone cord later that day. Although he alleged that he was able to get away from her fit of rage, Kardashian reportedly ended up suffering neck injuries and tears to his clothing when Chyna chased after him, repeatedly striking him in the face and head, according to Entertainment Tonight. Furthermore, Kardashian also alleged that Chyna was under the influence of alcohol and drugs at the time of the incident, as Entertainment Tonight reported.
So where, exactly, does Kardashian's little sister, Kylie Jenner, fall into this disturbing lawsuit? Allegedly, according to Entertainment Tonight, Chyna continued her violent tirade that day in December by trashing the house she and Kardashian were renting from Jenner. This included damage to a TV, phones and destruction of a gingerbread house made for the holidays, as Entertainment Tonight reported.
The charges that have been filed against Chyna by Kardashian and his youngest sister, according to Entertainment Tonight, include assault and battery, conversion (for the property damage at the house owned by Jenner) and declaratory relief, which is related to their realty show, Rob & Chyna.
While the official lawsuit filing is obviously news, it's worth noting TMZ actually reported these claims back in July. Still, the reality star couple are no strangers to relationship drama. Back in July, Kardashian shared a series of cruel Instagram posts about the mother of his child — including explicit photos of Chyna, a photo of a man he alleged Chyna was sleeping with, a video of her kissing another man, and screenshots of text messages. Kardashian's account was eventually shut down over the posts, and Chyna filed for a restraining order against him.
"Mr. Kardashian, you are now on notice: revenge porn is illegal," Chyna's attorney, Lisa Bloom said in a statement to Romper at the time of the incident, adding:
Cyberbullying your ex is harassment. Chyna ended your relationship months ago and she has the right to live as she chooses, work as she chooses, dress as she chooses, date who she chooses, and be intimate with who she chooses. Chyna and I both believe that this is an important women's rights issue, as too many women and girls have been slut-shamed by exes.
Interestingly, the lawsuit comes merely weeks after it was announced the couple had finally reached a custody agreement for their 10-month-old daughter, Dream. "Chyna is pleased that Rob has agreed to peacefully co-parent Dream with her, as she has been requesting all along," Bloom said, according to Entertainment Tonight.
Kardashian and Chyna's relationship has been up and down from the very beginning — so this legal action isn't particularly surprising. What is surprising, however, is the violent and vengeful actions of two grown adults who have a child together.
It's true that little Dream was too young to be able to remember her parents' tension-filled relationship in the long term. But like it or not, Kardashian and Chyna will always be connected in some way because of their daughter; so at some point, they'll have to learn to at least be civil in each others' presence.
Or at the very least, they should try. For their daughter's sake. Because while the separation of a child's parents doesn't necessarily scar a person for life, the way they treat each other in front of their child after splitting certainly can leave a mark.
Watch Romper's new video series, Romper's Doula Diaries:
Check out the entire Romper's Doula Diaries series and other videos on Facebook and the Bustle app across Apple TV, Roku, and Amazon Fire TV.