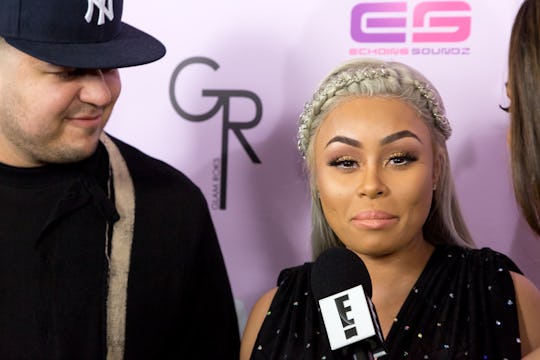 Greg Doherty/Getty Images Entertainment/Getty Images
Blac Chyna Could Be A Victim Of Revenge Porn
With every technological advancement society makes, we're provided with a new glimpse into how awful humans truly are. We can record images and transmit them across the world in seconds, which was great up until Rob Kardashian posted naked photos of Blac Chyna to Instagram Wednesday morning. According to People, Kardashian posted a series of explicit and derogatory photos, videos, and text screenshots. If the photos and videos were posted without her permission, Kardashian could be in violation of California's so-called "revenge porn law." Neither his nor Chyna's representatives have returned Romper's request for comment.
Multiple nude photos of Chyna were briefly posted to Kardashian's account, and it's unclear whether he removed them voluntarily. In California, it's a misdemeanor to distribute an image of another person's "intimate body part" or a depiction of them "engaged in an act of sexual intercourse" without permission. In addition to the graphic photos, Kardashian also posted a video of what appears to be Chyna kissing another man. In the caption of that post and others, Kardashian claimed that the video showed the pair having sex, but that's unconfirmed. If the images are found to be in violation of the controversial 3-year-old law, Kardashian could be facing a jail sentence.
The series of posts began shortly before 11:00 a.m. Eastern Time, and Kardashian has continued to post regularly for hours. He shared a screenshot of another man's Instagram selfie which Kardashian claimed was taken in Chyna's bed, and further claimed that the man in the photo had threatened to "expose Chyna" if Kardashian didn't give him money (but did not elaborate on what exactly would be exposed). In another post, Kardashian identified both men by tagging their Instagram handles.
Kardashian also accused Chyna of drug abuse and infidelity, and repeatedly fixated on his claim that Chyna has had multiple sex partners. First and foremost, Chyna's sex life isn't her former fiancé's business, never mind the public's. But since he brought it up: Chyna is a grown woman, and she can have as much safe and consensual sex as she wants, with as many people as she wants. She can have sex with 10 people at once. She can be abstinent for the rest of her life. Women are allowed to have sex, and they're allowed to enjoy it. There is only one person in this situation who should be ashamed of themselves, and it's not Chyna.