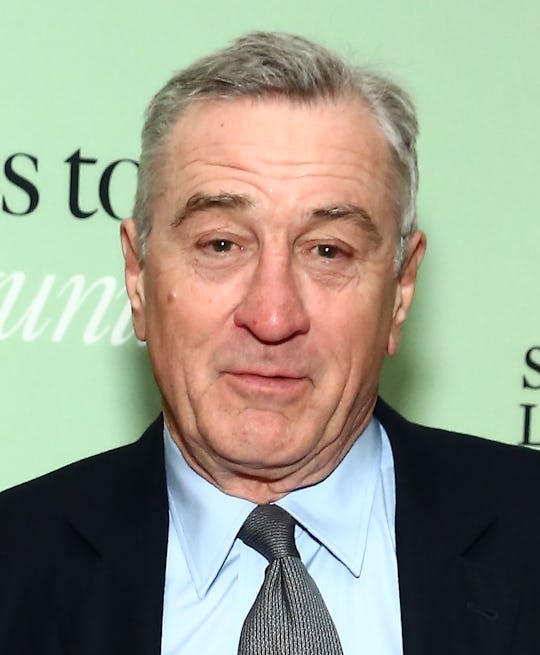 Astrid Stawiarz/Getty Images Entertainment/Getty Images
Robert DeNiro Defends Anti-Vax Film Again & Completely Misunderstands The Controversy
After initially pulling the film from the Tribeca Film Festival last month, actor Robert DeNiro once again defended the anti-vax film Vaxxed: From Cover-Up to Catastrophe on The Today Show this week. The film was originally slated to be screened at the festival, which was co-founded by DeNiro, along with producer Jane Rosenthal, and began this past Tuesday night in New York City. But even after DeNiro vehemently defended the film's inclusion in the festival last month, organizers were forced to pull the documentary when other filmmakers involved with the event threatened to pull their own work from the lineup. On Wednesday, DeNiro both defended his decision to pull the film while at the same time defending the controversial subject matter of the documentary.
In a sit-down with the Today hosts, DeNiro said that he doesn't believe it's right to completely "shut down" the discussion of any link between childhood disorders like autism and vaccines. "There's a lot of information about things that are happening with the CDC, the pharmaceutical companies, there's a lot of things that are not said," DeNiro said. He added that, as a parent of a child with autism, he was worried the an important discussion was being shut down before it could begin. "I'm concerned," he said. "And I want to know the truth. I'm not anti-vaccine. I want safe vaccines."
The Goodfellas star added that his wife had seen dramatic changes in their own autistic son after being vaccinated and for that reason, he believed that the science behind vaccines needed to be examined more closely. DeNiro even recommended another documentary during the interview called Trace Amounts, which also delves into the link between vaccines and autism in children, though the science behind the claims in that film has also been thrown into question. When asked by the hosts about the reportedly flawed findings in both films, DeNiro said that it was a "much more complicated [problem]" than that. "There's a link," he said.
Whether or not you agree that there's a link between autism and vaccines, many critics agree that the documentary in question is almost certainly biased, since most of the science behind it has been retracted. In fairness, most documentaries are, in some way or another, slanted, but Vaxxed is directed and produced by Andrew Wakefield, the author of the most widely circulated study on the connection between autism and vaccines (one that was notably retracted by the journal that published it). Wakefield's medical licenses too have been revoked since its publication. It's important to note that all those actions were taken after evidence of Wakefield allegedly manipulating data was brought to light.
Much of the data presented in the film allegedly relies on the "sinister" workings of the Centers for Disease Control, but many studies that have proven vaccines to be safe were done in Europe, where American bureaucracies don't really have much say in what's approved for children and what's not.
Here's the thing: Unless you're a scientist, it can be hard to comb through rough data and figure out what works for you and your family or not. There are lots of things to take into consideration, even the fact that there have been many cases of not parents not getting the MMR vaccines and regretting it, anecdotally. Every parent should consult the physician they trust and go with their gut instinct. That's all anyone can do when it comes to medical decision.
But any kind of science, like most learn very early on, is mainly about peer review and that old, pain in the butt "scientific method" you had to recite by heart in 6th grade (or was that just me?). It's all about having a hypothesis, testing it, and then testing it again, and again, and again to replicate the results. When those results are replicated, the experiment is done again by other scientists, so that they, too, can see if the tests were run correctly. It's not a perfect method, but it's what we've come up with as a standard.
The Tribeca Film Festival's conversation surrounding Vaxxed isn't about censorship. The film was criticized because it bills itself as a documentary, which as a genre, is supposed to be about presenting facts with a little editorial opinion mixed in. The science behind Vaxxed has largely been debunked within the scientific community. Much like DeNiro said that he's not "anti-vax" but in support of safe vaccines, the film community stood up for its own values. It's not about censoring anti-vax debate — the debate just needs to be rooted in good, peer approved science.