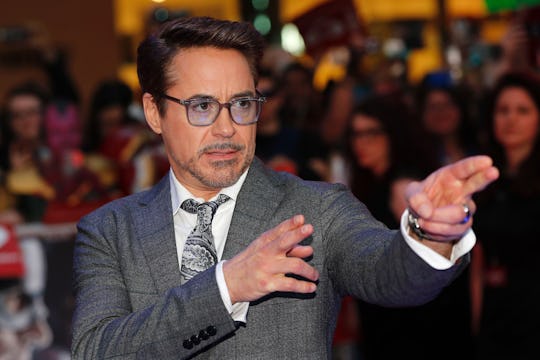 ADRIAN DENNIS/AFP/Getty Images
Robert Downey Jr.'s Son Is #TeamCap & It's Basically The Cutest Thing Ever
Turns out Iron Man isn't taking that whole Civil War rivalry thing with Captain America too seriously. We already know that Robert Downey Jr. frequently uses his superpowers for good and wears the dad suit well. For example, once he dressed up as a favorite storybook character to cheer up a young boy living with cystic fibrosis, and he's visited with Marvel super fans at children's hospitals on several occasions. So when it comes his youngest son's superhero alliance, the Iron Man dad unsurprisingly can't hold a grudge. Yes, Robert Downey Jr.'s son is #TeamCap.
On Thursday, People chatted with Downey and his Captain America: Civil War co-star and big-screen rival Chris Evans, who plays Captain America in the movie, which hits theaters on May 6. Downey revealed to the entertainment outlet that, when it really comes down to it, his 4-year-old son Exton actually sides with Captain America — so much so, in fact, that Downey tucks his son into bed with a Captain America blanket.
"I was tucking my boy in last night when he fell asleep and I put a Captain America blanket on him," Downey told People. "So that's the last time I saw [Chris'] face. Keeping my kid safe."
The Iron Man star seems to have a soft spot for the kiddos. Tony Stark stopped by a London hospital this week and met with some young mini-superheroes just ahead of the European premiere of Captain America: Civil War. According to Entertainment Weekly, the actor met with a young boy who suffers from a rare blood disease as well as type 1 diabetes. But the boy, dressed up as his favorite Avenger, Iron Man, was all smiles when he met Downey in real life.
In another event that will tug at your heart, Downey used his superhero fame to cheer up another sick boy back in 2015: This time, the actor opted for something a bit tamer, reportedly dressing up as classic Winnie the Pooh character, Tigger.
Last October, little Daniel Keyte's mom, Vicky Keyte, reached out to the actor about the difficulties her 7-year-old son had to deal with each day, as a result of his cystic fibrosis. Downey accepted the challenge and posted a silly photo on his Instagram with a pretty amazing comment and even better invitation.
"Mr. Stark here. This is for Daniel (@envy_coatings) who was having a rough day recently," the actor wrote in the caption. "When I'm in the dumps, I've found this little getup to be helpful. P.S. Would you like to come to the LA premiere of Captain America: Civil War as my guest? If so, have your people call my people. All the best."
With an offer like that, it'd be close to impossible to say no. After calming down, a bit, Keyte took to Instagram to respond to the offer with a video of her son squirming around with too much excitement.
"We physically can not believe it and can't ever imagine a way to thank everyone enough," she wrote in the video's caption. "I will keep everyone updated on the build up to the big day on Daniels progress and his day to day going ons and of course his tuxedo fitting that he has asked for today as he wants to fit in like a real star." When the big day finally took place, Keyte promptly posted a photo of two gents looking happy and handsome as can be.
Robert Downey Jr. may play a tough-as-nails superhero onscreen — but offscreen, he's just a big mushy teddy bear... and his kindness to kids everywhere (including his own) proves it.