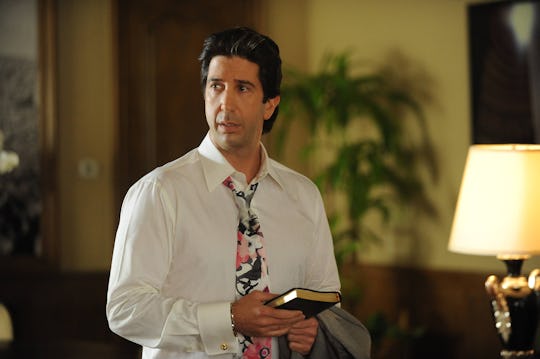 Ray Mickshaw/FX
Robert Kardashian's Lecture About Fame on 'American Crime Story' Is A Wink At Kardashian Fans
One of the most fun aspects of of Ryan Murphy's American Crime Story is seeing the portrayals of famous people, particularly the Kardashians as children. This Tuesday's episode opened with David Schwimmer as Robert Kardashian, giving a lecture about fame to the Kardashian kids.
In the scene, Robert Kardashian brought his children to Chin Chin restaurant on Father's Day. He was recognized by the hostess as "The O.J. guy"– after having read O.J. Simpson's alleged suicide note on television – and the family was seated right away. After being seated, Kardashian told his children, "We are Kardashians, and in this family, being a good person and a loyal friend is more important than being famous." He added, "Fame is fleeting, it's hollow. It means nothing at all without a virtuous heart."
Schwimmer told E! News that the lecture was fabricated, but important for the sake of the story. "It was a fictionalized moment by the writers," he said, "But it was important for them and for us to show what was happening with Robert."
In addition to showing what was going on behind the scenes of this very publicized case, American Crime Story also provides hindsight to the case and those involved two decades later.
The lecture is no exception. It was very tongue-in-cheek, considering Kardashian's kids are now arguably the most famous people on the planet.
Twitter immediately reacted to the scene. Some appreciated the obvious foreshadowing to the eventual Kardashian empire; Others did not appreciate the inclusion, and commented that even Simpson's own children were not featured when the Kardashian clan were:
Still others wondered whether the series was unfairly making fun of the Kardashians in its portrayal:
Although the Kardashians opened the episode, Ryan Murphy said that they would not be prominent in the series. During the TCA press tour, he commented, "Of those 400 scenes [in the series], only four or five of them include the Kardashian children."
One of the themes of the series–and a reason why the O.J. trial was so pivotal to mainstream media– was the beginning of non-stop, 24 hour news. Another media offshoot of this is reality TV, of which the Kardashians made their empire. Murphy continued, "[They] were emblematic of the beginning of this time, where someone could become famous and no one would understand why they were famous."
Despite their limited appearance in the series, the Kardashian kids certainly leave a lasting impression. Fans of the reality TV stars appreciate the witty references, and non-fans are able to analyze Murphy's lecture about the evolution of media since the O.J. Simpson trial regardless, thanks to Schwimmer's brilliant monologue.