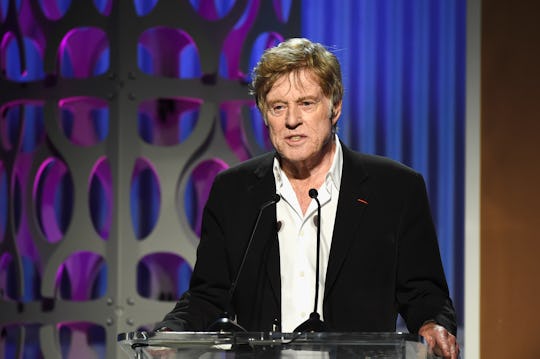 Frazer Harrison/Getty Images Entertainment/Getty Images
Robert Redford Defends The Arts In Open Letter
On Thursday, President Trump's administration revealed its proposed budget for 2018, and one thing quickly became clear: In order to pay for increases in defense and military spending, the government would have to strip many other agencies of all of their federal funding — the National Endowment for the Arts included. Unsurprisingly, a whole bunch of actors, artists, and singers weren't too happy with that plan. And on Sunday, Sundance Film Festival founder Robert Redford defended the arts in a moving open letter posted to the Sundance Institute's website.
Redford didn't mince words when it came to criticizing the proposed budget changes. "The proposed defunding of the NEA's budget would gut our nation's long history of support for artists and arts programs and it would deprive all our citizens of the culture and diversity the humanities brings to our country," Redford wrote. He continued:
This is entirely the wrong approach at entirely the wrong time. We need to invite new voices to the table, we need to offer future generations a chance to create, and we need to celebrate our cultural heritage. I believe the NEA must not only survive, but thrive.
Last year, Redford was awarded the United States' highest civilian honor, the Presidential Medal of Freedom, by President Obama. The director and actor has been consistently praised for launching the Sundance Institute, an organization that has helped support many emerging artists during their early careers — and which, according to Redford, would not exist without NEA's early support.
"Today the [Sundance] Festival brings millions of dollars of revenue to Utah over a 10-day period – proving that art can be an economic force," Redford wrote. "The dividends of [the NEA's] investment in our culture are unquantifiable. More than dollars, the NEA represents a civilization that values critical and creative thought."
Redford isn't the first artist to criticize NEA funding cuts: By speaking out, he joins the likes of Julie Andrews, Chris Evans, Jussie Smollett, Josh Gad, Jamie Lee Curtis, Judd Apatow, Mark Ruffalo, and other celebrities. According to Entertainment Weekly, many Hollywood celebrities jumped on Twitter with the hashtag #RighttoBearArts in order to criticize the proposed budget.
Redford included a call to action in his letter to fans, writing: "I'm asking you to please join me in adding your voice to the chorus of concerned citizens by contacting your congressional representative and voicing your opposition to these cuts and in favor of continued support for the role the arts play in enriching our American story."
If you agree with Redford, you can find your congressional representative online and make sure your voice is heard.