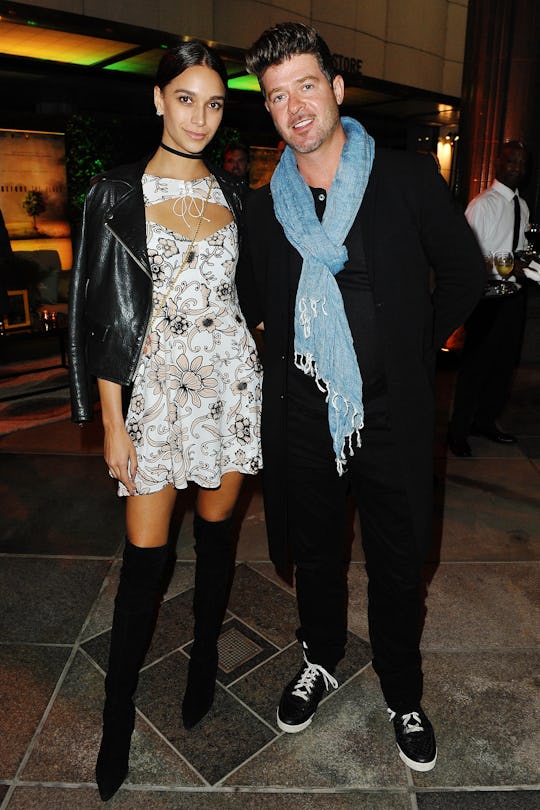 Jerod Harris/Getty Images Entertainment/Getty Images
Robin Thicke & April Love Geary Are Expecting Again
Robin Thicke and girlfriend April Love Geary may have only welcomed their daughter, Mia, into the world six months ago, but it turns out that the couple is already set to make her a big sister: Robin Thicke and April Love Geary are expecting their second child together, and they announced the news in an adorable Instagram post on Thursday that featured a video of little Mia holding (OK, squishing) an ultrasound photo of her soon-to-be sibling. In the caption, Geary wrote, "We're so excited to share with y'all that I'm expecting again," and added that they were set to find out the baby's sex on Saturday.
Mia may not yet realize just how much her life as she knows it is about to change, but from the sounds of it, Thicke and Geary are totally ready — or, at least as ready as you possibly can be when you're set to have two kids under the age of two. Geary shared in the post that their new addition is actually due on Thicke's birthday, which means Mia will likely be promoted to big sister in March 2019. And the big day will come only about a month after another major milestone for the growing family: Mia will actually turn one on Feb. 22, according to People.
Over on his own Instagram account, it's clear that Thicke was just as excited to share the news: he posted a sweet video clip of Geary's ultrasound appointment, and showed off the screen image of his growing little one. In the clip's caption, Thicke thanked Geary, and quipped, "They said we couldn't make another anthem, so we went and made another anthem!"
The new baby's arrival will actually make Thicke a father for the third time — in addition to Mia, Thicke shares an 8-year-old son, Julian Fuego, with his ex-wife, actress Paula Patton, according to Us Weekly. And from the looks of it, Julian is already enjoying being a pretty awesome big brother.
Thicke recently posted a video on Instagram in celebration of late soul singer, Aretha Franklin, and in it, he and Julian sang along to her hit song, "Respect," while Mia bounced along on Thicke's knee.
In addition to being a cute family moment though, it also seemed to be proof that Julian may have inherited his dad's musical talent. So after commenters pointed out how great Julian sounded singing along, proud papa Thicke also posted a video he took of his son singing in a school talent show back in May, and wrote, "just like Aretha Franklin!"
Editor's Note: The Instagram post has since been deleted.
As much as it might not be easy to have two young infants and an 8-year-old, Thicke and Geary seem to be loving family life, and it seems like they'll be able to take the added chaos in stride — and probably with a good dose of humor. In an Instagram Story Thursday, Geary posted a screenshot of Drake's "Back To Back" playing on her phone, and joked that the song was "[her] and Robin's new anthem," along with the hashtag, "#baby#2."
One thing she's definitely not here for, though? Criticism from online strangers over the fact that she and Thicke aren't married. After being called out by some of her followers for having a second child with Thicke out of wedlock, she wrote, "Why are women so obsessed with telling me I need a ring? Getting married is the easy part, seeing how you are AFTER having babies is the hard part." She then followed up with an additional message noting that "women don't NEED to get married before having babies," and added, "y'all need to chill."
As much as having two babies so close in age might not be the right choice for everyone, it definitely seems like Thicke and Geary are totally psyched about the prospect of having another child. And, honestly, given how much they already seem to be enjoying family life, it's easy to see why.