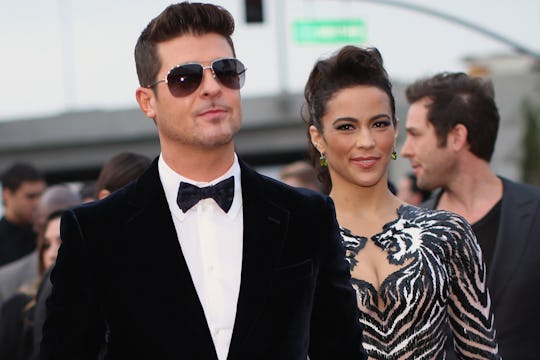 Christopher Polk/Getty Images Entertainment/Getty Images
Thicke & Patton's Custody Battle Just Got Worse
With the L.A. County Department of Children and Family Services (DCFS) opening an investigation regarding physical abuse allegations against him, Robin Thicke's custody battle with Paula Patton, his ex-wife, is only getting more concerning. In addition to his 6-year-old alleging "really hard" spanking from his father, Thicke has been accused of smoking marijuana in front of his son and allegedly appearing at his son's kindergarten graduation while intoxicated. Romper has reached out to both Thicke and Patton's reps for comment on the situation but has not yet heard back.
On Thursday, Patton asked that a Los Angeles judge limit Thicke's access to their son, Julian and grant her an emergency hearing with the intention of restricting Thicke to "monitored daytime visits" with Julian. "I have become concerned about [Robin]'s drinking and drug use, as well as the forms of punishment he is using to discipline Julian," Patton's declaration claimed. Her concerns were heightened, Patton says, when "Julian's school called DCFS to report what they believed to be credible allegations of abuse from Julian" regarding the aforementioned "really hard" spanking. The court ruled, however, that "there is insufficient showing of great or irreparable harm, immediate danger, or any other statutory basis."
A source close to the circumstance also told People that Patton allegedly "wanted more custody because of her allegations of physical abuse, which are untrue and unfounded." Another source told Us Weekly that the "judge denied everything in [Patton's] complaint," also claiming that "Child Protective Services didn't see any evidence of wrongdoing."
Thicke defended his spanking of his son, saying in court documents that his behavior was not inappropriate:
This is the type of discipline to which Paula and I agreed during our marriage. I have never exceeded age-appropriate discipline, and thus never been an issue, nor has it been raised by Paula previously.
On record, Thicke also stated that he believes Patton has made such allegations against him because she was not invited to his father, Alan Thicke's, funeral last month. Thicke's statement in the documents reads: "Paula did not have a positive relationship with my father and often made negative comments to me about my father. As such, she was not welcome at his funeral."
Thicke and Patton divorced in 2015 after being married for 10 years. Thicke has very apparently moved on, posting copious photos of and with his 21-year-old girlfriend, model April Love Geary, on Instagram. Still, Thicke and Patton's custody situation regarding their 6-year-old appears to only be getting more complicated. Hopefully, the truth will come to light and an arrangement can be made that keeps all parties — but especially Julian — absolutely comfortable and happy.