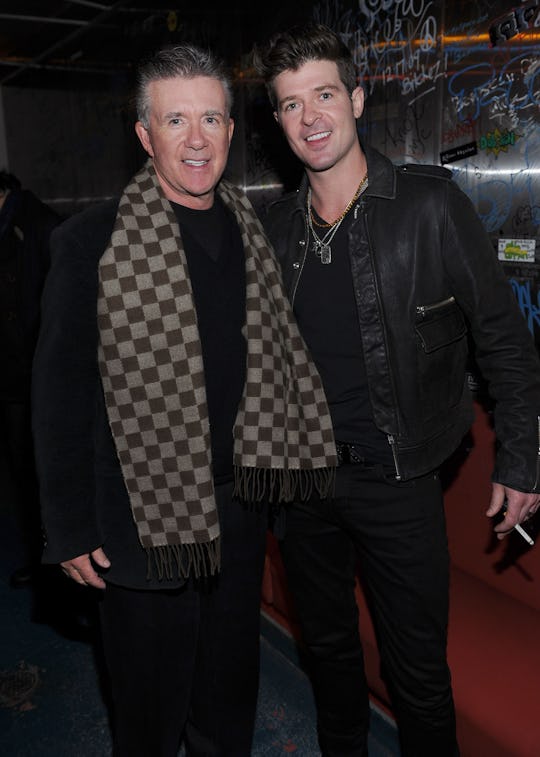 Dimitrios Kambouris/Getty Images Entertainment/Getty Images
Robin Thicke's Reaction To Alan Thicke's Death Will Show Their Deep Connection
On Tuesday night, fans all over the world were shocked after learning that Alan Thicke died at the age of 69 years old. According to TMZ, Thicke had a heart attack while playing tennis with his son Carter and pronounced dead at the hospital. With his passing, though fans are clearly devastated, many are waiting to hear what Robin Thicke's reaction to his dad Alan Thicke's death is. His passing will of course be a heartbreaking reminder of the connection the two shared, and Robin hasn't been shy when it comes to talking about just how influential and important his dad has been in his life. TMZ reported that Thicke was transferred to Providence St. Joseph's Medical Center around 12 p.m. on Tuesday, and was pronounced dead at the hospital. Thicke, who was three sons — Robin, Brennan, and Carter — is survived also survived by his wife, Tanya.
His publicist confirmed his passing to ABC shortly after TMZ first broke the story. Thicke, who enjoyed a long, illustrious career on television, made sure his sons knew the ins and outs of show business. In an interview with the Huffington Post, Thicke said:
All of them have been exposed to my career and my life and they see it by example and they know that show business is a lot of fun when it's going well... I'd be happy if they were orthodontists because straightening teeth will be around forever and show business can be fickle, but I also tell them to follow their dreams to the last drop ... just don't be stupid about it.
In the hours after his dad's passing, Thicke was obviously silent on social media. Romper reached out to Thicke for comment but did not hear back at the time of publication. On Wednesday morning, Robin Thicke took to Instagram to share a touching tribute to his dad, noting just how meaningful their relationship was to him and will continue to be in the wake of his death. Thicke wrote:
After Robin Thicke's high-profile divorce from ex Paula Patton, his dad spoke candidly with the Huffington Post about his advice for Robin. He told the site:
My advice to Robin is listen to your heart, do what you feel. Follow your heart in love and marriage as you would in careers and you'll be fine. Robin has a great heart. He's a fabulous father. He obviously followed his heart in creating and devoting an entire album to Paula and I believe you can't go wrong that way.
But that doesn't mean their relationship was perfect. When Thicke confessed that he used Robin's music to get it on with his wife, Tanya, Thicke hilariously tweeted:
It's not your standard father-son fight, but Thicke's shocking passing highlights just how unique and special their father-son bond was.