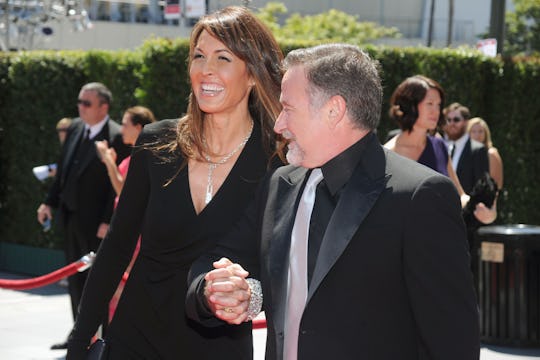 Frazer Harrison/Getty Images Entertainment/Getty Images
Robin William's Wife Pens Heartbreaking Essay About Their Final Times Together
It's been just over two years since Robin Williams' suicide and while his fans continue to mourn him, there hasn't been tons of information about what was really going on with the actor in his final moments. Which is exactly why you should find a moment to read Robin Williams' wife's essay about his dementia and their search for a diagnosis. But be warned: it might break your heart in its honesty. The retelling of how he struggled to find out what was "wrong" with him and how he dealt with the diagnosis is something that too many families can relate to and Williams and his wife were no different.
Susan Schneider has been married to Williams for just three years when he was misdiagnosed with Parkinson's disease two months before he hung himself at their home, but they had been stuck in a medical labyrinth for long before that trying to figure out what a slew of symptoms Williams was exhibiting really meant. After an autopsy, it was revealed that he was actually living with Lewy body dementia, which is caused by protein deposits in the brain. Schneider wrote a personal essay in Neurology, a medical journal, that she and her husband were "living a nightmare."
She writes that during the filming of Night at the Museum 3, there were times that he couldn't remember even one line. According to Schneider, "people with LBD who are highly intelligent may appear to be okay for longer initially, but then, it is as though the dam suddenly breaks and they cannot hold it back anymore." She said that when her husband returned from filming that spring, it was like a whole other person, describing his return as akin to a "747 airplane coming in with no landing gear."
The thing, is, Williams was showing so many symptoms that doctors just couldn't figure out what he was dealing with. His widow wrote that there weren't just physical symptoms like constipation and insomnia, but increased paranoia, loss of memory, and an "inability to control his anxiety," which as anyone who suffers from anxiety can empathize with, is terrible all on its own, let alone with everything else. Every time they went to a doctor, there were more symptoms to treat, like a game of "whack-a-mole," she wrote.
Schneider wrote:
He hated that he could not find the words he wanted in conversations. He would thrash at night and still had terrible insomnia. At times, he would find himself stuck in a frozen stance, unable to move, and frustrated when he came out of it. He was beginning to have trouble with visual and spatial abilities in the way of judging distance and depth. His loss of basic reasoning just added to his growing confusion."
Williams kept saying, according to Schneider's essay, "I want to reboot my brain." When he was diagnosed, finally, with Parkinsons, Williams still had a feeling that something just wasn't right. Schneider wrote that the day before he killed himself, they had a "perfect" day, like it was one never-ending date, and that he said "Goodnight, my love," before they went to sleep.
Schneider wrote the essay specifically in the medical journal to talk to doctors who are working on treatments and cures for LBD. She joked that her husband always liked playing doctors and that he was a "genius" who loved "discovery," and would have liked, probably, to read and learn about what he was struggling with.
Her essay is heartbreaking, but hopefully by sharing her and Williams' experience looking for a diagnosis can help others. That's probably something Williams would get behind.